Estimated read time: 3-4 minutes
This archived news story is available only for your personal, non-commercial use. Information in the story may be outdated or superseded by additional information. Reading or replaying the story in its archived form does not constitute a republication of the story.
(KSL News) Six years to life. That's the time Mark Hacking will spend in prison for killing his wife Lori.
For Lori's family, it hardly seems fair. "Honestly, I don't know how to find closure. I still don't have my daughter," said Lori's father, Eraldo Soares. He said of Mark Hacking, "He's just a freaking liar. You can see it in his eyes. So I do not feel sorry for him. He has to pay for what he did to my daughter."
Mark Hacking himself agrees he deserves the sentence. He told the judge Monday that spending a thousand life times behind bars wouldn't be enough punishment for what he did.
Lori's family agrees. Mark's family hopes he'll eventually be released. His father, Doug Hacking, said, "As a family, we hope that someday he can be released from prison so he can be in a better position to contribute to the lives of others."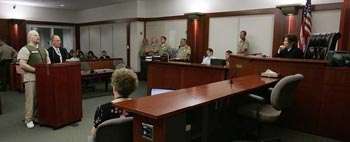 Mark's family added they'll leave the "when" and "if" surrounding Mark's potential future release up to the parole board, based on Mark's behavior in prison.
Mark Hacking spent most of his sentencing hearing with his eyes down, sometimes closed. Numerous times, he broke down in tears.
Mark told the judge his "gorgeous" wife Lori did nothing but love him unconditionally, even when he didn't deserve it. He said, "I can't explain why I did it. I was not myself that day. That's not an excuse. I won't make any excuses."
Lori's family says they deal daily with the pain Mark caused. Her parents said every time they hear a dump truck they're reminded of their daughter's malicious death.
"Think of what he had and literally threw that beautiful wife of his and the child in a garbage can," Eraldo Soares said.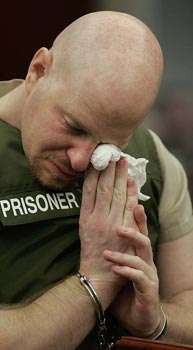 Hacking's attorney says Mark never planned to kill Lori. It was a sudden, rash solution to ease the pain he'd caused her.
This sentencing hearing was the first time family members and Mark Hacking, himself, spoke in court.
For the family, the end of the judicial process could be the beginning of healing.
Members from both the Hacking and the Soares families spoke with the media, yesterday. They've since asked for privacy as they try to move on.
"Although we abhor what Mark did, we are proud of him for taking responsibility for his actions and for his desire to repent. As hard as it may seem to believe, we love him more than before," said his father.
It's been an emotional nightmare, to say the least, for both families. Mark's family says Mark's downward spiral started with failures on an LDS mission and in school that led to a path of lies that culminated in murder.
"Rather than admit to himself and others that he could not succeed in college, he began to create the illusion that he was going to school and doing well," Doug Hacking explained.
Initially, everyone believed Hacking.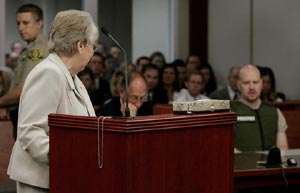 Thelma Soares, Lori's mother, released a statement talking about her son-in-law's deception.
Part of it reads: "I loved that young man, as if he were my own son. So, his betrayal is profound. Justice, demands that his life remain as irrevocably altered as Lori's..his child's and mine are."
Soares faced Hacking in court and asked, "How could you do that?" Hacking answered, "I'm sorry."
Lori's father says that's not enough. "I do hope with the sentence he is going to stay in that jail forever."
Hacking released a statement that says in part, "I know prison is where I need to be... I have a lot of healing and changing to do, but I hope that some day, I can become the man Lori always thought I was."
Ultimately, the Utah Board of Pardons and Parole will determine how long Mark Hacking will stay behind bars.
The panel members will consider how he behaves in prison and the seriousness of his crime. Only about four percent of people sentenced for first degree murder in Utah remain in prison for life. On average, most serve about 20 years.
×
Most recent Utah stories