Estimated read time: 2-3 minutes
This archived news story is available only for your personal, non-commercial use. Information in the story may be outdated or superseded by additional information. Reading or replaying the story in its archived form does not constitute a republication of the story.
Sandra Yi ReportingFriends of the Kearns man accused of killing his elderly mother say he struggled with drug abuse.
Kyle Hansen couldn't believe it when he saw the suspect in handcuffs, singing on TV. His behavior raised questions about his state of mind. Hansen tells us, whatever the reason, he wasn't always that way.
Matthew Kirkham acted strangely, as deputies took him in for questioning in the apparent murder of his elderly mother. His behavior shocked those who knew him.
Kyle Hansen, Family Friend: "The Matthew that I knew was not the Matthew that everyone saw on TV."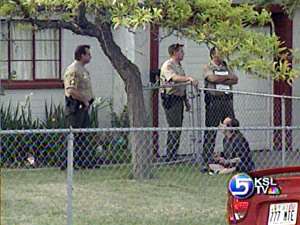 Kyle Hansen remembers a different guy. The two were schoolmates and church friends through high school.
Kyle Hansen: "He was your average, everyday kid."
But Hansen says they took different paths and drifted apart.
Kyle Hansen, Family Friend: "In school he was a very intelligent person, always seemed to get good grades. And then he just seemed to start hanging out with the wrong crowd towards the end
They lost touch, but their mothers remained close.
Kyle Hansen: "I remember his mother telling my mother that Matthew had struggled with substance abuse."
But neighbors say Joann Kirkham allowed her son to stay with her.
Kyle Hansen: "Matthew's mother, very kind woman, wanted the best for Matthew. And I think that's why she tried to take care of him."
Authorities are still investigating why Kirkham allegedly killed his mother. Neighbors heard them arguing Saturday morning. She was found dead from blunt force trauma the next day, and her son is the murder suspect.
Kyle Hansen: "Obviously I was shocked, but I think I was also saddened just because of the Matthew I saw on TV and the Matthew I knew were not the same person."
It appears Matthew Kirkham has had medical problems in the past. Deputies say, in January the victim called them because her son was sitting in his room, ranting about the devil. Authorities say he was taken to a hospital that day.
×
Most recent Utah stories