Estimated read time: 2-3 minutes
This archived news story is available only for your personal, non-commercial use. Information in the story may be outdated or superseded by additional information. Reading or replaying the story in its archived form does not constitute a republication of the story.
Alex Cabrero reporting When you think of military ground combat, the Army and Marines probably come to mind. But now the Air Force is training its airmen a new way.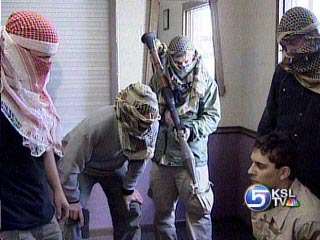 "You're a pilot. You drop the bombs. They fall. They don't hit me, they hit the children. You think you do something good?"
This can be downright scary.
"My brother is dead. You must talk."
Fortunately for airman Hardy and the other hostages, it's only make-believe. It's training for what one day might be the real thing.
Amber Lonas, 75th Air Base Wing: "It's hard to imagine, but you have to put yourself as if it would happen, because it could happen."
"Hands up!"
Hostage tactics are just one of many training scenarios airmen had to go through today at the Utah Test and Training Range. That's right, airmen from Hill Air Force Base working on ground strategies.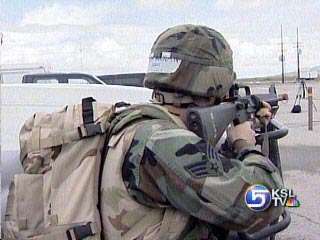 Capt. Jonathan Webb, 75th Air Base Wing: "I think this kind of training is the same that's gonna make us better in combat."
You don't usually see members of the Air Force with rifles. Even they'll tell you that.
Kane Cavanaugh: "We don't usually handle weapons very much."
But it's all part of the military's current plan to train all members of its branches with basic combat techniques.
"Don't put your finger on it. Hooah? Put it below it."
Imagine, an Army man teaching an Air Force rifle class.
Lt. Col. Robert Rocco, 75th Air base Wing: "We're American military, fighting personnel, regardless of our branch, we all have a mission."
That mission is to win battles and wars, when politics decide it's necessary to go.
"Box down"
These airmen are what's referred to as "being in the bucket", which means they may deploy in the next few months.
Scott Barger: "I think this is really good for us."
So a little unfamiliar technique now, may save a life later.
Lt. Col. Robert Rocco, 75th Air base Wing: ""I'd rather have an uncomfortable airmen here, than to have to write a letter to a parent and have to tell them we failed to provide them the training they needed to survive and come home safely."
The training continues through Thursday.
×
Most recent Utah stories