Estimated read time: 2-3 minutes
This archived news story is available only for your personal, non-commercial use. Information in the story may be outdated or superseded by additional information. Reading or replaying the story in its archived form does not constitute a republication of the story.
Alex Cabrero reportingAlmost daily, there's another suicide bomb attack in Iraq. Fortunately, that is not the case here in America. But the Department of Homeland Security wants us ready, just in case.
Utah might be one of the last places on the list of targets you'd expect a suicide bomber. But as the trainer in today's class said, you never know, and it's better to react before than after.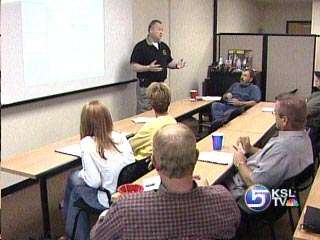 People think of lots of things when they go shopping: What to buy, where the deals are, how much they're spending. But suicide bombers are probably something we never think of.
Robert Angeloff Ogden Resident: "No, I've never considered that to be something that would be possible."
You can't blame Robert Angeloff. Did you go into a store today and think about it? That only happens in the Middle East, not America.
Chris Ranker: "I don't think so."
Jamie Black: "We're too busy having fun shopping."
Which is exactly why Dennis Kennedy puts his all into his classes.
Dennis Kennedy, Safety Trainer: "It's just a matter of time."
He's a trainer for the Department of Homeland Security, teaching classes we hope we never need.
Dennis Kennedy, Safety Trainer: "The global war on terrorism is still going on, and they are constantly seeking new and more horrible ways to try and hurt us."
Mostly, Kennedy teaches people how to be aware of their surroundings, how to recognize when something just doesn't seem right.
It's almost automatic now, to see a Ryder truck parked outside a building, and think of Oklahoma City.
Dennis Kennedy, Safety Trainer: "Identify this threat, and do something about it before it happens. When it happens, it's way too late."
We're probably safe in Utah, but it's good to be aware.
Bob Kirkman: "We've become very accustomed to our security and our safety, and I think as Americans, we take it for granted."
The Department of Homeland Security hopes some 24-million Americans take classes like these in the next couple of years. The classes are not to scare us, just to let us know the potential is there.
×
Most recent Utah stories