Estimated read time: 2-3 minutes
This archived news story is available only for your personal, non-commercial use. Information in the story may be outdated or superseded by additional information. Reading or replaying the story in its archived form does not constitute a republication of the story.
Sandra Yi ReportingJudy Linton: "It woke us up, kind of, but we went back to sleep thinking it's nothing."
It was something; her neighbor had been shot by car thieves in his driveway in West Valley City. And police are still looking for the three suspects, who may be connected to other, similar crimes in Sandy.
Judy Linton: "We just heard a pop about 5:30 in the morning."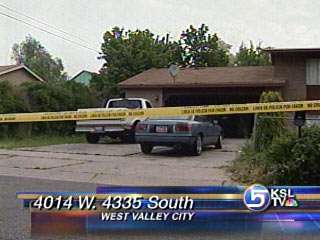 The pop she heard was a gunshot.
Judy Linton: "My 16-year old was up getting ready, and she heard two shots."
Her neighbor, 26-year old Benito Perez-Torrez had been shot in his driveway.
Police say he caught two men trying to break into his car. When he confronted them one of the suspects fired several rounds. The victim was hit once in the arm. The two suspects jumped into a getaway car with a third man at the wheel.
David Brough, Neighbor: "It's a big thing. I never thought for a moment that anything like this would happen."
Police don't think, this was the only neighborhood the men hit. Sandy Police are investigating. Less than two hours before the shooting there was a similar incident on the east side of Sandy. Police say a woman heard rustling in her garage and saw a man trying to steal her car.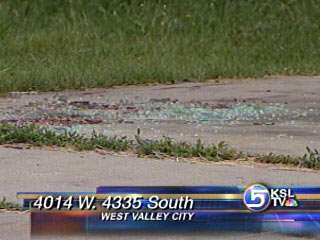 Sgt. Bill O'Neal, Sandy Police "She asked him, 'What are you doing here?' He said, 'I'm here to steal your car,' pointed a black revolver at her, and said, 'if you call anybody, call the police, I'll come back and get you.' She immediately shut the door at that time. The suspect fled the area."
Sandy police are also looking into a car burglary and the report of a stolen Honda Accord in the same area. Police say the shooting suspects may have used that Accord as their getaway car.
Sgt. Bill O'Neal: "The suspects in this valley were seen leaving in a vehicle that matched, a white sedan that matches that was stolen in our city."
Police say the descriptions of the shooter and the man who threatened the woman in Sandy, match. He's white or possibly Hispanic, 5'5"-5'7", has black hair and brown eyes, and has a thin build, about 120-140 pounds. He was wearing a dark hoodie, is in his early to mid-twenties.
The car stolen in Sandy may have been the getaway car. It's a white 1992 Honda Accord with Utah plates 170 MDY.
If you have any information on this case, call West Valley Police at 801-40-4000.
×
Most recent Utah stories