Estimated read time: 1-2 minutes
This archived news story is available only for your personal, non-commercial use. Information in the story may be outdated or superseded by additional information. Reading or replaying the story in its archived form does not constitute a republication of the story.
LAS VEGAS (AP) -- A judge declared a mistrial Thursday after a jury said it was hopelessly deadlocked on whether a 21-year-old Utah man should be sentenced to death for a brutal knife attack that left a little girl dead and her older sister paralyzed.
Judge Donald Mosley set a July 7 hearing at which he could under state law sentence Beau Maestas to life in prison or empanel another jury to decide Maestas' fate.
Jurors were deadocked 10-2 in favor of the death penalty, said Maestas' lawyer, Pete Christiansen. Of the jurors who held out for life in prison, Christiansen said, "God bless them."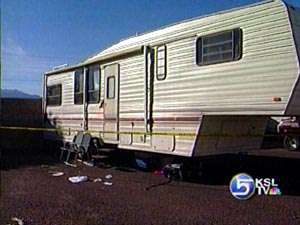 "At the end of the day, he's not the worst of the worst," Christiansen said.
Maestas pleaded guilty May 27 to stabbing 3-year-old Kristyanna Cowan and her half-sister, 10-year-old Brittney Bergeron in a trailer outside a casino in Mesquite.
Kristyanna died. Brittney was paralyzed.
Prosecutors did not offer Maestas a plea deal, leaving open the possibility of the death penalty for the January 2003 attack.
During an emotional weeklong penalty hearing, investigators fought back tears as they described what happened the night of the attack. The girls, left home alone as their mother, Tamara Bergeron Schmidt, gambled at a nearby casino, were awakened about 1:30 a.m. by Maestas, who forced his way into the trailer and stabbed the girls.
Authorities say Maestas, who was 19 at the time, carried out the attack with his 16-year-old sister, Monique. Now 19, Monique Maestas has pleaded not guilty and is facing life in prison if convicted. Her trial is pending.
(Copyright 2005 by The Associated Press. All Rights Reserved.)
×
Most recent Utah stories