Estimated read time: 2-3 minutes
This archived news story is available only for your personal, non-commercial use. Information in the story may be outdated or superseded by additional information. Reading or replaying the story in its archived form does not constitute a republication of the story.
Shelley Osterloh ReportingThe Utah Olympic Park is starting its summer program for visitors and it's one of the most popular attractions is a Freestyle Aerials show.
They flip and spin so fast, you can't count. Freestyle aerialists, free-riders, and mogul skiers perfect their tricks in the splash pools at the Utah Olympic Park. They also train on trampolines. But each Saturday, they perform just for fun and entertainment. The show, called the Flying Ace All Stars, was created by two star Olympians back in 1997 -- Trace Worthington and Fuzz Feddersen.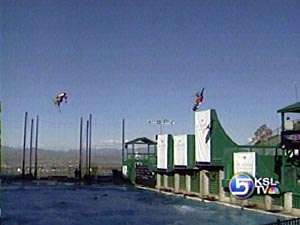 Fuzz Feddersen, Flying Ace All Stars: "We decided we needed some extra funds for a coach, so we did a fundraiser and a show. And Trace and I produced the first ever water ramp show."
Spectators love it, athletes earn a little extra cash, and people learn about Freestyle and the Olympic Park. Some of these athletes are truly stars in the making, others are athletes who have retired from competition, but still love their sport.
Matt Chojnacki, World Record Holder: "It's so much fun to be a in show environment where there is a little less stress and you can cut loose, make a little money to pay for the off season when you are not supported by the ski team."
Joe Pack, Olympic Silver Medalist: "We get to jump in front of some pretty good crowds. And so you are up at the top of the jump and they call your name and introduce you and you have to hit your mark right there, so its actually a little bit of competition training as well."
The Flying Ace All-stars also perform for private parties and conventions, adding special lighting and fireworks, but the Saturday shows are open to the public.
Trace Worthington, Flying Ace All Stars: "They get to see come out and see the jumpers every Saturday at noon, and bring family from out of town and really see what its all about in a 30 minute period. And then afterwards they can go on tours and do the zip line and do all the fun stuff up here at the Olympic Park."
It's a place that is becoming a popular visitor destination as well as a premier athlete training facility.
The Flying Ace All Stars begin their weekly Saturday shows on June 18, that's a week from tomorrow, at the Utah Olympic Park near Park City.
×
Most recent Utah stories