Estimated read time: 1-2 minutes
This archived news story is available only for your personal, non-commercial use. Information in the story may be outdated or superseded by additional information. Reading or replaying the story in its archived form does not constitute a republication of the story.
Amanda Butterfield reporting The body of a man who had been reported missing has been found in the parking lot of a local grocery store. The man had been missing for about a week.
Police will not release the name of the man until they are able to notify next of kin. There's still no word on the cause of his death, but police say there are no signs of foul play.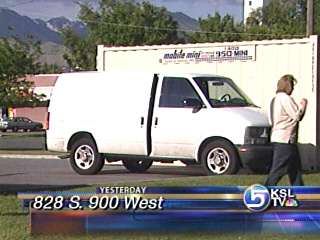 Salt Lake City police say the man's body was found in this Smith's parking lot on 8th South and 9th West. He's his late 40's, and had been missing since last Tuesday.
Last night, around six, his friend saw his buddy's van in the southeast corner of the lot.
Lt. Zane Swim/Salt Lake City Police Dept.: "The friend looked inside the van. There was a body there. He then of course called the police."
Police say, because there are no visible trauma to his body, he could have died from several things, including natural causes, suicide, drugs. Homicide detectives are investigating the case.
Lt. Zane Swim/Salt Lake City Police Dept.: "Homicide investigators responded because it was a missing person and a suspicious death."
Police don't know how long the van had been in the parking lot, and it's still unclear how long the man had been dead. Autopsy results to determine the cause of death are expected this afternoon or tomorrow.
Police did search the inside of the van, but say they found nothing out of the ordinary.
×
Most recent Utah stories