Estimated read time: 2-3 minutes
This archived news story is available only for your personal, non-commercial use. Information in the story may be outdated or superseded by additional information. Reading or replaying the story in its archived form does not constitute a republication of the story.
Samantha Hayes reportingA Utah private school for troubled teens is facing troubles of its own. After a 7 month investigation, its co-owner has been charged with child abuse. The school itself is at odds with the state over licensing as well.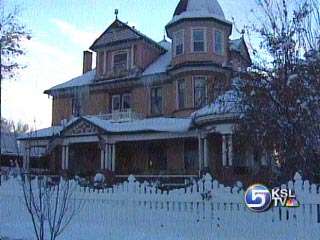 The Whitmore Academy is a private boarding school run by Mark and Cheryl Sudweeks. Police began taking a closer look at their operation last year when one of the students claimed he was physically and verbally abused.
Nephi police had been investigating the Whitmore Academy for six months when we made an unannounced visit in April. Co-owner Cheryl Sudweeks invited Eyewitness News to choir practice.
Cheryl Sudweeks, Co-owner, Whitmore Academy: "You'd think after six months we'd hear something. We've never heard anything valid, and we do have an attorney who works for us."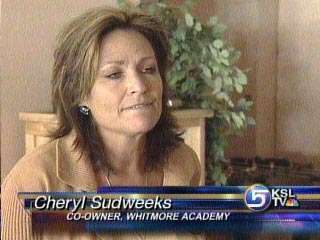 Sudweeks is now facing seven misdemeanor counts of chid abuse and hazing. She is accused of "causing physical injury...and permitting others to inflict physical injury on a child". The alleged incidents happened between April 2003 and November 2004.
Leah Schacherer was enrolled at Whitmore Academy during that time.
Leah Schacherer, former Whitmore Student: "Cheryl pulled my hair, pushed me over a chair, and spit in my face and called me a bunch of names and it happened to other kids."
At the same time, investigators say the Whitmore violates a new state licensing law, a requirement for schools providing therapy.
Ken Stettler, Director of Licensing: "I don't know where its going to lead at this point..whether they are going to recognize the fact the new law does encompass what they are doing..or if they are going to claim they are a boarding school or change their practices or what.."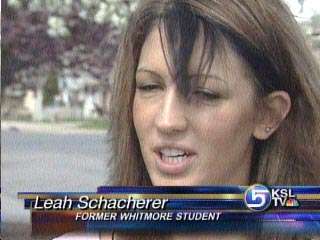 Cheryl Sudweeks, Co-owner, Whitmore Academy: "We don't have therapy, we have counseling..just like a high school counselor would do."
Sudweeks says the Whitmore Academy is strictly a Boarding School , exempt from state regulators..
Cheryl Sudweeks, Co-owner, Whitmore Academy: "We have students graduation in May, we're really proud of that."
But in the midst of abuse and licensing allegations, there are other questions from parents and their children, about the value of a 40-thousand dollar a year Whitmore education.
Leah Schacherer, former Whitmore Student: "Now I'm trying to go to college and its hard because I didn't learn things I should have learned in high school."
We were unable to reach Cheryl or Mark Sudweeks on Monday for comment on the charges. They have told me before that many parents support what they do, and feel their program is successful for many teenagers.
×
Most recent Utah stories