Estimated read time: 1-2 minutes
This archived news story is available only for your personal, non-commercial use. Information in the story may be outdated or superseded by additional information. Reading or replaying the story in its archived form does not constitute a republication of the story.
Sandra Yi reportingSeveral shots are fired at an apartment complex in Salt Lake City. Police are investigating to see if it's drug related.
Police are looking for a man who kick in the door of an apartment located near 1601 W. 400 South.
Four people were in the apartment when the suspect forced his way inside. They say he ran through the apartment, and then ran back to the back bedroom. He stole a backpack, and then ran outside. The victim, who is the renter of the apartment, gave chase. Neighbors saw the two running, and moments later heard two gunshots.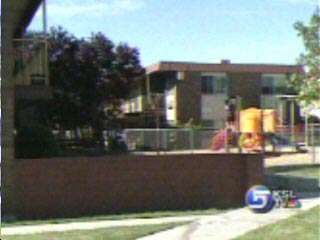 Julie Brooks, Neighbor: "This was at 9:30 this morning, kids are out. Usually it happens in the middle of the night. Listen, kids are out. He could have killed somebody."
Police say, they don't know where the renter is. Neighbors say they saw the renter and his girlfriend leave the complex this morning after the incident.
Another man inside the complex was brought out on a stretcher. He told police he was diabetic, and he was having a reaction. He was taken to the hospital.
Police believe this incident may be drug related. A neighbor tells KSL that he found a bag of marijuana on the ground. He turned it over to police.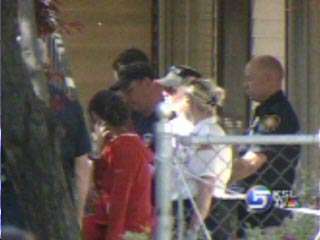 Police are looking for a suspect in this case. They say he is a Hispanic Male, 5'6" with a thin build. He was wearing a black ski mask, and a red sweatshirt. He left the scene in a black Acura. The Acura has temporary plates, but the license plate frame has American flags all over it.
If you have any information on this case, call Salt Lake City Police.
×
Most recent Utah stories