Estimated read time: 2-3 minutes
This archived news story is available only for your personal, non-commercial use. Information in the story may be outdated or superseded by additional information. Reading or replaying the story in its archived form does not constitute a republication of the story.
Jed Boal ReportingBrent Wilhite, UDOT: "If motorists take their normal commute here, traffic is going to be backed up quite a while, both time wise and for miles back on to I-15."
UDOT closed two eastbound lanes last night after pieces of concrete fell from the bridge over Highland Drive. This afternoon they closed much of the access to I-80 Eastbound to limit congestion.
![](http://www.commuterlink.utah.gov/1_devices/aux57.jpeg)
Current Image of Traffic Near 1100E on I-80 (commuterlink.utah.gov)
The best advice we can give you is to avoid I-80 Eastbound until Thursday afternoon. Afternoons will certainly be the worst time of day to be there. UDOT closed access from Southbound I-15, State Street and 7th East to reduce the traffic jam, but it is a major artery. Last night UDOT found out concrete was falling from under the Highland Drive bridge and the road surface was crumbling too.
Brent Wilhite: "There's a pothole that just got bigger and bigger. Since it's on a bridge, that hole goes all the way through."
Crews started repairs right away. They cleared an area around the hole, replaced corroded rebar, and poured concrete this afternoon, which must cure until Thursday. Asphalt will cover it all. The lanes should re-open Thursday afternoon.
The real culprit is the salt we put on the roads in the winter. The salt and water penetrate the surface. When it gets to the reinforced steel in the bridge, it starts to corrode. Once that corrosion continues, eventually it breaks, and the road surface buckles. With the new rebar there's an epoxy surface that should slow down the erosion process.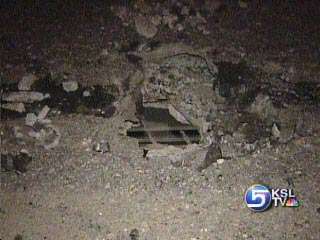 Todd Jensen, State Bridge Engineer: "This particular bridge is about 40 years old, so you start to see spot areas of corrosion."
UDOT plans to overhaul the stretch of interstate, but cannot afford it now. UDOT must balance growing capacity with the condition of a highway to come up with priorities, and there are needs all across the state.
Todd Jensen: "We inspect our bridges regularly and watch for those kind of items and try to anticipate and repair before they do occur. Every once in a while you have a small spot where you can have an issue like this."
Again, use surface streets to avoid delays.
×
Most recent Utah stories