Estimated read time: 2-3 minutes
This archived news story is available only for your personal, non-commercial use. Information in the story may be outdated or superseded by additional information. Reading or replaying the story in its archived form does not constitute a republication of the story.
Coco Warner ReportingIt's been nearly four and a half years since Janis Stavros went missing, and even though the case has gone cold, her family and friends hope a new billboard campaign will spark new leads.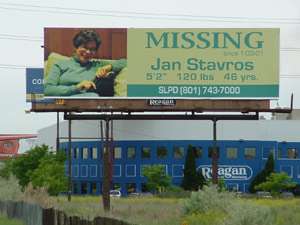 Right now you can see the Stavros billboard from Northbound I-15 at about 2800 South. Reagan Advertising donated the sign, which features Janis's photo and some contact numbers. Janis's loved ones are hoping somebody will see this billboard and add anything to this case.
Forty-three-year old Janis Stavros, along with her boyfriend and daughter, had dinner at Mike Stavros's home Tuesday night, January 2nd, 2001. That was the last time Mike saw Janis. Her friends and family tried to locate her over the next few days before finally calling the police.
Mike Stavros, Janis's Ex-husband: "We just never turned anything up. And the police seemed to come up with dead ends everywhere they turned. And it's been, it was like she went out to check the mail and never came back."
Leads led nowhere, the case went cold. But Janis is still missing and her loved ones are missing her.
Mike Stavros: "I have a wonderful girlfriend at this point, but there isn't a day that goes by that I don't think about Jan."
Shawn Harris, Family friend: "So many scenarios run through your head, and none of them are a good one, you know?"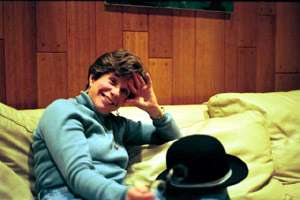 So Shawn created a website devoted to Jan this past year, and after the police officer assigned to the case transferred into another police department, out of frustration, Shawn decided to get a billboard made for Jan.
Shawn Harris, Family Friend: "Me being in outside sales, I'm driving up and down the freeway constantly reading billboards. And one day I just thought, you know I'm going to do a billboard for Jan; let's see what it takes to do that."
Mike Stavros, Janis's Ex-husband: "The case is cold; it's getting reviewed by some clerk who puts it back into the file and we don't want that to happen, we want to find Jan. We want to know what happened."
If you have any information regarding this missing person's case, please contact the Salt Lake Sheriff's Office.
×
Most recent Utah stories