Estimated read time: 2-3 minutes
This archived news story is available only for your personal, non-commercial use. Information in the story may be outdated or superseded by additional information. Reading or replaying the story in its archived form does not constitute a republication of the story.
John Daley Reporting"All the people that are here illegally, what they need to do is leave to legally and apply to come in the right way."
The larger fight is over immigration, the specific question: Should the children of undocumented immigrants who live in Utah qualify for in-state college tuition? A legislative committee voted today to stop allowing the children of undocumented immigrants to get in-state college tuition. The move, if passed by the entire legislature, would represent a dramatic about face after Utah granted those students that benefit just two years ago.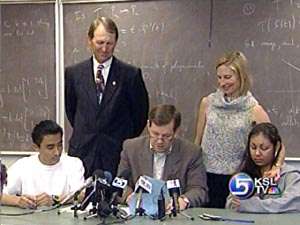 The issue of immigration is complicated, it's emotional, and as the meeting showed today, there are no easy answers.
Two years ago a dream came true for Sylvia Salguero. The daughter of undocumented immigrants from Mexico, she graduated from Park City High School, but couldn't afford school at the University of Utah until the state passed--and Governor Leavitt signed--a new law allowing students who lack a proof of residency to pay in-state tuition at Utah colleges.
Susul Najar, University of Utah Sophomore: "One thing that I know is I didn't ask my parents to bring me, they just wanted me and my family to have a better future. The thing is that if I have the opportunity, I'm not going to waste it."
But that program is facing tough scrutiny, including from another U of U student who testified before a legislative committee today. When she was five, Susul Najar's mother immigrated to Connecticut from Peru. She's a US citizen, a U of U sophomore and pays out-of-state tuition.
Susul Najar: "If they want to help the illegal aliens, then go ahead, then don't do it at the expense of me. I just don't think that's fair." University of Utah Sophomore
What's changed the debate was September 11th. That tragedy renewed the fight over immigration reform. A lack of apparent progress on the issue has inspired some, like the Minutemen patrolling the US-Mexico border, to step up pressure on US policies.
Today a former aide to former US Attorney General John Ashcroft told the committee Utah's law doesn't conform to federal law, and says Utah is risking a 100 million dollar lawsuit. Ultimately, Utah's debate mirrors the national one--the question of whether to accept undocumented immigrants or reject them?
"If you love America you'll come here legally. And if their countries are so bad that they want a better opportunity, let them stay in their own country and get rid of the corrupt governments in their own country."
On an 11 to 3 vote the committee voted to repeal that law. That of course is not the end of this fight. It'll go before the legislature next session.
×
Most recent Utah stories