Estimated read time: 2-3 minutes
This archived news story is available only for your personal, non-commercial use. Information in the story may be outdated or superseded by additional information. Reading or replaying the story in its archived form does not constitute a republication of the story.
Samantha Hayes reporting The woman who was shot by her husband in Holladay Monday night, is still in serious condition.
Friends say, Carrie Elizabeth McClure lived her life in fear, and the shooting was the violent culmination of years of abuse.
It's a story many Utah families are familiar with.
The Utah Domestic Violence Council says the number of calls to local police departments and shelters give counselors hope that means more victims are not staying silent.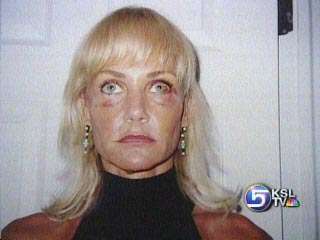 When they saw the bruises and her eye socket broken, Carrie McClure's friends insisted she leave her husband.
Rhonda Woodward Friend of Carrie McClure: "She was terrified of him. I think she was ashamed; she separated from her friends when they reconciled because, you know, we had told her, 'You can't stay with this man, he will kill you someday."
That's what almost happened Monday, when Garth McClure shot her and fatally shot himself in front of their eight-year old daughter.
Pamela Heinbecker, Friend of Carrie McClure: "And we know what happened, she barely made it out with her life and it's got to change and I'm here for that reason."
So is Brandy Farmer, she was a victim of domestic abuse, and is helping others through the Utah Domestic Violence Council.
Brandy Farmer, Utah Domestic Violence Council: "When a victim leaves it's the most dangerous time, that's when the perpetrator has lost total control."
The Bureau of Justice Statistics reported this week that the rate of family violence nationally dropped by half from 1993-2002.
But Farmer feels that report is incomplete and points to Utah numbers.
Brandy Farmer, Utah Domestic Violence Council: "Our link line number has increased over 42 percent in the last year."
Numbers from the Division of Child and Family Services show nearly a 50 percent increase in domestic violence shelter stays from 2000 to 2004.
Farmer hopes the increase means more victims are getting help.
Brandy Farmer, Utah Domestic Violence Council: "I feel more people are reporting and reporting more often."
×
Most recent Utah stories