Estimated read time: 2-3 minutes
This archived news story is available only for your personal, non-commercial use. Information in the story may be outdated or superseded by additional information. Reading or replaying the story in its archived form does not constitute a republication of the story.
Ed Yeates reportingImagine safely cinching up your stomach like a duffle bag - loosening or tightening it at will - depending on how much weight you want to lose!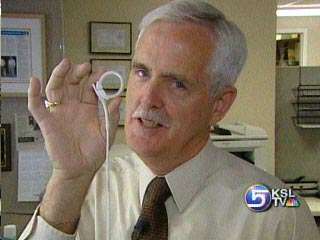 That's what more than 400 people in Utah are doing right now with something called "-lap banding."
We first reported on lap banding two years ago, when Utah's first patient, Vivenne Sullivan, tried it. The device which squeezed a small portion of her stomach was implanted in a relatively simple procedure.
In the cinching, a small band that is wrapped around the narrow upper part of the stomach, just below the esophagus. Through five small incisions, doctors implanted the band laproscopically.
With less food allowed inside, she ate less. Since 2003 Vivenne has kept her weight consistent at the same rate she lost in the first four months after the implant.
Vivenne Sullivan: "I weighed 230 - don't tell my husband - and I'm down to 150 pounds - so eighty pounds."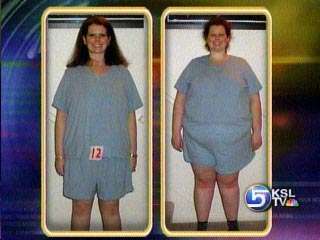 On the right, Holly Andrews - about a year and a half ago. On the left is where she's holding now.
Holly Andrews: "I was at 302 pounds and I'm down to 175. I've almost lost 130 pounds and I feel so good."
The big skirt, once needed - is history now.
Darrin Hansen, M.D., South Valley Surgery Associates: "People tend to lose about 30 percent of their excess weight - above what their ideal body weight should be at about six months. At about a year, they've lost over half."
Dick Chatterton who once played USU football with the likes of MaCarthur Lane and Bill Staley - tipped the scale at 404 pounds about a year and a half ago. Now he's holding at 180 pounds.
Dick Chatterton: "I went from a size 56 Levi to a 38 - and so one of my goals is to be able to go into a normal store and buy normal clothing."
Those who've had the implants are holding, increasing or decreasing their weight at will because in a five minute outpatient procedure, a simple injection can tighten or loosen the band.
Also, unlike gastric bypass, banding is reversible. It can be removed at anytime.
Although lap banding is easier and safer than gastric bypass, it's still reserved only for people who are at least 80 to 100 pounds over their ideal body weight, and who have not been able to keep their weight down through conventional dieting.
×
Most recent Utah stories