Estimated read time: 3-4 minutes
This archived news story is available only for your personal, non-commercial use. Information in the story may be outdated or superseded by additional information. Reading or replaying the story in its archived form does not constitute a republication of the story.
Jed Boal reportingDeron Smith, Millard County Commissioner: "I'd like to believe it...but we're waiting for evidence."
A story of treasure worth tens of millions of dollars found in the mountains? Or just a hoax that has the town of Delta buzzing?
The story surfaced this week. Locals want to believe it's true, and federal authorities want to see proof.
A Millard County man says he was hunting for arrowheads when he came upon a cache of -gold bars, civil war guns, antiques and dynamite.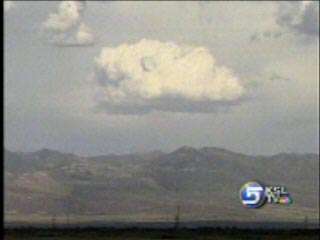 Scott Taylor told me this morning on the phone he found the treasure a month and a half ago. He says he wants to turn it over to the Treasury Department and the B-L-M wants to see it, but they're at a stalemate right now.
Stories of buried treasure and Spanish gold, have swirled through Delta for years.
Les Harward, Rancher: "In a town like this, that stuff spreads exactly like wildfire."
So in the last few days, when word spread that Scott Taylor made a major find in the mountains, excitement grew.
Les Harward, Rancher: "I wanna believe it. I'd like to believe it. It would be nice for somebody to actually find something out there."
Nick Dutson, Store Clerk: "It would be cool to believe it. If it really happened."
As with many stories on the street, it grows as it goes.
Les Harward, Rancher: "Everything from 3,000 to 300 millions."
On the phone, Scott Taylors said he found 137 gold bars, which could be worth more than $50 million. He says he discovered the gold while hunting for arrowheads, and that it was buried with antiques, guns and dynamite.
The Bureru of Land Management told Taylor to take them there, so that they could remove the old treasure, and clear out the old dynamite. But Taylor did not like their offer.
Deron Smith, Millard County Commissioner: "I would like to believe it. I guess everybody is waiting for some evidence. And that's up for Scott and his family to decide and work out with the BLM."
We went to talk to Scott Taylor Tuesday night, at his parent's house just outside Delta, but he was unwilling to do an on-camera interview. His mother told us, this should be an exciting time, but it's turned into a nightmare. She said that her son would tell the BLM where the gold is, if they were willing to pay a 40% finders fee. She said, unless there is an offer like that, he is not telling where the gold is.
Deron Smith, Millard County Commissioner: "I think right now that maybe the family's a little set back by all the stuff exploding in their face, and they wonder what to do, and how to deal with things that are on public ground."
County and Federal authorities worry about the dynamite, and also treasure hunters that may stampede the five million acres of BLM land, and put themselves in danger. But, it could also be a boost for tourism.
Deron Smith, Millard County Commissioner: "Hopefully, that it can be a pleasant experience for the county and for them. You know, I think that is all anybody wants."
×
Most recent Utah stories