Estimated read time: 2-3 minutes
This archived news story is available only for your personal, non-commercial use. Information in the story may be outdated or superseded by additional information. Reading or replaying the story in its archived form does not constitute a republication of the story.
Sammy Linebaugh reportingAn armed man threatened several people at a Chevron and two of those people chased him down. The armed man is behind bars today and a group of motorcycle riders helped put him there.
The suspect, 35-year-old Alejandro Enrique Ponce de Leon, now faces aggravated robbery charges, as well as possession of a restricted weapon, for firing a sawed off shot gun at the Chevron gas station.
Just after midnight last night, a group on bullet bikes was parked at the gas station. The suspect allegedly approached the group, asking for money. They say he didn't speak much English, and when they refused, he pointed toward one of the bikers, demanding to see what was in his pocket. The biker pulled out a video camera. It was at that point, witnesses say, the suspect became agitated, pulled the sawed off shot gun from his bag and began to walk away. The suspect then turned and fired a shot in the direction of the bikers.
Lindsey Kelle, Biker: "He started reaching in his bag for something and I saw the end of the gun."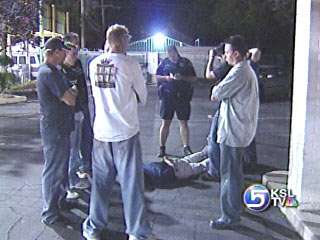 Lindsey Kelle ran into the gas station and called 9-1-1.
Meanwhile, two of the bikers chased after the suspect, and caught up with him just down the street.
Blake Harris, Biker: "Right when we got around the corner, grabbed ahold of him, swung him around, and just grabbed ahold of his arms. Pinned him down, put a knee on him and just waited for the cops to get there."
They wrestled the gun from him and held him on the ground until police arrived and took him into custody. The bikers say they knew that kind of fire arm well enough to know he couldn't shoot at them again, without reloading.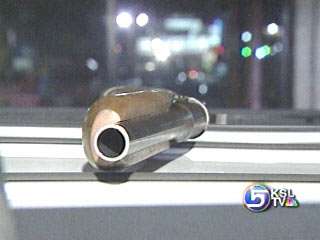 Blake Harris: "This is second home to us. We don't...we come here on the weekend nights, weekday nights. We come here to hang out. Don't really do anything. Something interesting will happen every once in a while, but we don't ever expect to be shot at for no reason."
Obviously, police do not recommend chasing an armed suspect, but in this case, the bikers felt relatively safe in doing so.
×
Most recent Utah stories