Estimated read time: 3-4 minutes
This archived news story is available only for your personal, non-commercial use. Information in the story may be outdated or superseded by additional information. Reading or replaying the story in its archived form does not constitute a republication of the story.
Sandra Yi ReportingRusty Hughes: "The next time, maybe he is more desperate and he will shoot."
Police are looking for a carjacking suspect who threatened a couple with a gun. It happened just before 8 o'clock last night on a busy street, in South Salt Lake. Police found the stolen car this afternoon, but there's still no sign of the suspect.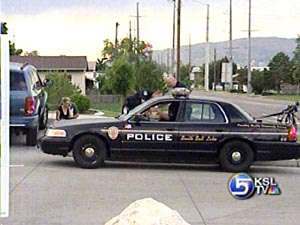 It happened at 3300 South and 300 West. Rusty Hughes and his wife were stopped at the light when the suspect calmly walked up to their car and carjacked them at gunpoint.
Rusty Hughes: "Lock your doors while you drive."
That's the first thing Rusty Hughes did when he picked up his car this afternoon, found at a Murray apartment complex. Investigators found a pocket knife the suspect may have left behind.
Rusty Hughes: "I don't know what he would have done. It just happened so fast."
Last night Hughes and his wife were on their way home when their car ride took a violent turn. It happened at a busy intersection in daylight.
Rusty Hughes: "I was just watching the traffic and the next you know, my wife was just screaming."
Hughes looked over and found himself staring at the barrel of a gun. A man was holding it, wrapped in a shirt.
Rusty Hughes: "I didn't even the notice the car door open. I just looked over and he already had the gun in my face and his hand on my shirt."
The man threw Hughes out and yelled at his wife to get out of the car. Hughes says she was frozen with fear.
Rusty Hughes: "I was starting to yell at him, 'let her out, let her out', and he was going, the car was still in drive when he threw me out, and so it rolled into the intersection a little. So I got up and ran around and pulled her out of the passenger side and he took off."
Police say the couple did the right thing by getting out of the car fast. Hughes believes that saved their lives.
Rusty Hughes: "It's kinda a good thing too, that I didn't know what was going on until it already happened, because if I had time to think about it, I might have done something that could have got us shot."
But Hughes doesn't think the carjacker was out to hurt anyone. He noticed the man's hands were shaking.
Rusty Hughes: "He allowed enough time for me to get up and run around to the other side and pulled her out, while he was yelling, 'get out'. So I don't think he was after he or the car. He was running and needed a way out."
The man may have been running from deputies. Before the carjacking, Salt Lake County authorities tried to pull over a man who matches the suspect's description. He did not stop, and deputies did not chase him, because it did not involve a violent felony. Deputies say he abandoned his car, 12 blocks from here.
The man is described as being between 27 and 30-years old. He's 6 feet tall with a shaved head. And, he has several tattoos on his arms and upper body.
If you have any information in this case, call South Salt Lake Police.
×
Most recent Utah stories