Estimated read time: 2-3 minutes
This archived news story is available only for your personal, non-commercial use. Information in the story may be outdated or superseded by additional information. Reading or replaying the story in its archived form does not constitute a republication of the story.
Keith McCord ReportingA Utah school has been selected to participate in a unique program that will help students with severe special needs. It involves a new computer technology system developed by Boston University that helps students to communicate.
Talking, gesturing, or even operating a computer mouse is routine for most of us. But for those who are severely disabled-- who can't speak, or use their hands or limbs-- it's very difficult for them to communicate.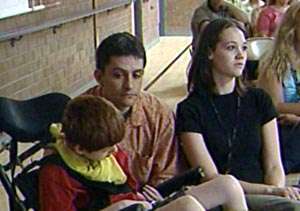 But 23-year old Britt Allen, who has Cerebral Palsy, can now play a computer game by using his eyes! Electrodes attached to his face and head allow him to move the curser on the computer screen. He's able to do it with a system called "Eagle Eyes", developed by Boston University.
Ron Williams, Opportunity Foundation of America: "Often times these kids are trapped in these bodies with no verbal communication skills at all. They do have their eye movements, up for yes, down for no, and those little minimal commands. But with Eagle Eyes, it gives them the opportunity to use the computer and open up a whole other world for them."
The Eagle Eyes system has various levels. For example, pre-programmed word icons allow students to actually say or spell out what they want to do, or what they need. They can do artwork and even surf the internet
Rick and Kendra Olivares say their 12-year old son Cameron has used the system for only a few months, but has come a long way.
Kendra Olivares, Cameron's Mom: "At first he wouldn't even look at the screen, but now he is very interested in looking at the screen. He plays the shoot the alien game, he can shoot the aliens down. He has a great time doing it."
Jordan Valley School in Midvale, which specializes in special education, is one of only four schools in the world to test the Eagle Eyes program. Each quarter the schools will compare notes on how students are responding.
Kendra Olivares, Cameron's Mom: "It's going to help so many kids and it's very exciting, we're really excited and very happy that it's coming to the school. And all the kids are going to be able to use it as well."
Jordan Valley was able to receive the Eagle Eyes system with the help of the Opportunity Foundation of America, a group formed in Salt Lake a few years ago to provide educational materials to minorities, immigrants and special needs individuals.
×
Most recent Utah stories