Estimated read time: 5-6 minutes
This archived news story is available only for your personal, non-commercial use. Information in the story may be outdated or superseded by additional information. Reading or replaying the story in its archived form does not constitute a republication of the story.
For more info on how you can volunteer,CLICK HERE. SALT LAKE CITY (AP/KSL News) -- The parents of 11-year-old Brennan Hawkins are keeping hope alive as day four came and went, in the heartbreaking search for the missing Boy Scout.
"This isn't in my job description," says his mother, Jody Hawkins, "but I feel at peace. It's going to be okay."
Searchers in the Uinta Mountains found nothing again today-- not a clue to Brennan's whereabouts. That, in spite of intensive searches by air, on land, and in the east fork of the Bear River.
The search for the boy resumed around 7:00 this morning, with fewer volunteers showing up. The pool of volunteers looking for Brennan Hawkins dropped to about 60 searchers and 350 volunteers today from about three-thousand people on Sunday.
Those 3,000 volunteers on Sunday scoured nearly six square miles for Brennan, who was last seen near a climbing wall at the 8,500-foot elevation Scouting site in the High Uintas, about 80 miles east of Salt Lake City.
"He's probably dehydrated, sleep-deprived, definitely hungry," said Brennan's father, Toby. "With him being so young at 11, I don't think he's thinking about what he needs to do to survive because he's never been in that environment."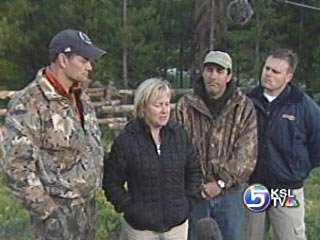 Summit County Sheriff Dave Edmunds said searches of the rugged wilderness had turned up no evidence so far, but investigators remain hopeful that the boy is simply lost. Nonetheless, investigators were exploring the possibility of foul play.
Edmunds says they don't have any reason to believe a crime has been committed, but they're still not taking any chances. Because of that, detectives are checking the background of everyone who was in the mountains over the weekend.
"There has been quite a number of people up here over this weekend. There's individuals that came up to the Scout camp for training, there's people that have been camping in the general vicinity," Edmunds told CBS' "The Early Show." "I've got my detectives out there right now trying to ascertain exactly who was up here in the woods and make sure we didn't have a predator or something of that nature."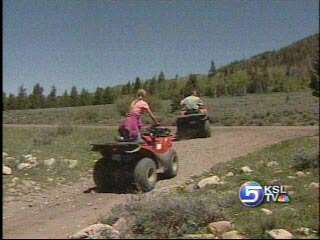 A climbing-wall supervisor said he saw the boy about 5:30 p.m. Friday struggling to remove climbing gear. At the same time, he saw the boy's friend walking down a dirt road toward the family's campsite about 200 yards away. The supervisor looked away and then looked back, but didn't see either boy, said Chief Deputy Sheriff Dave Booth, the search and rescue coordinator.
His mother, Jody Hawkins, said Brennan had a lot of outdoor experience. His father said the boy is shy and might not approach a stranger to confess he is lost.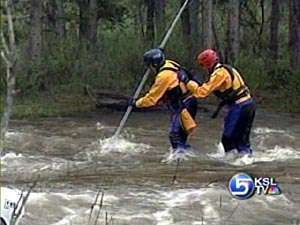 "Brennan's the kind of little boy that just gets under everybody's skin. Everybody loves him. He bonds to people very closely," Jody Hawkins told NBC.
The family spoke to the media Monday morning, running on only three hours of sleep since they heard that Brennan was missing,
"A lot of adrenaline in your body can kick in," said Jody Hawkins, Brennan's mother.
Standing next to them was Kevin Bardsley, reliving the nightmare of when his son Garrett went missing last summer, only 15 miles away.
"I have never stopped thinking about my son, and I never will the rest of my life," said an emotional Kevin Bardsley.
"When his wife says to me 'I know how you are feeling', she's the only person that knows how I'm feeling," said Jody Hawkins.
Scout leaders began a search for the boy about 6:30 p.m. Friday and were joined by the Summit County search and rescue squad about 9:45 p.m. On Saturday, about 1,000 searchers turned out.
Some searchers brought horses and all-terrain vehicles. Helicopters were used, including one that searched at night using infrared devices.
Most searchers don't know Brennan. Some came from as far as Wyoming.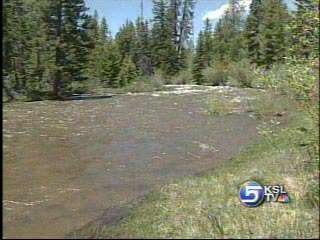 Don Pectol said, "I think this just reachees the heart of everybody. They see Brennan in their son."
Some churches in the Bountiful area canceled services on Sunday so their members could help.
If Brennan isn't found, the Sheriff expects the full-scale search to continue at least through next weekend.
Brennan's parents still want lots of volunteers but only those who are physically up to it. Everyone else, they say, should just pray.
Brennan Hawkins, who recently completed the fifth grade, was wearing a blue sweat shirt, black shorts and white tennis shoes when he disappeared. Search officials were not concerned about exposure, as temperatures were only expected to drop into the 50s overnight.
Authorities are fearful the boy may have tried to cross the East Fork of the Bear River, which comes within about 50 yards of the camp. Two swift-water dive teams searched the river for miles on Sunday. Through the day Monday, a nine-member swift water rescue team using hand-held poles scoured about 1.5 miles of the river. They found three socks and a sandal, but none were connected to the boy, Edmunds said.
"The biggest risk is the river," Booth said. "It's over a man's head in some places, and the current is swift."
The mountainous area being searched is just 15 miles from where 12-year-old Garrett Bardsley vanished last summer while camping near Crystal Lake. Bardsley was never found, despite a wide, weeklong search.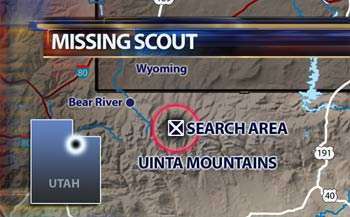 Bardsley's father, Kevin Bardsley, joined the search for Hawkins. Booth said the area of the current search is less severe than where Garrett was lost -- not as high, steep or cold.
"When we heard of the situation with Brennan, it made us realize how important it would be to come up and help in this effort and to be here for this family," Kevin Bardsley said.
(Copyright 2005 by The Associated Press. All Rights Reserved.)
×
Most recent Utah stories