Estimated read time: 1-2 minutes
This archived news story is available only for your personal, non-commercial use. Information in the story may be outdated or superseded by additional information. Reading or replaying the story in its archived form does not constitute a republication of the story.
(KSL News) -- A Utah weightlifter became a national champion this weekend at the ripe old age of 14!
You may remember Michelle Glascow from a story we did a couple of months ago, well, she's back, and once again, back on top.
We first caught up with Michelle Glasgow in April when she took the Utah weightlifting world by storm, winning the state championship and breaking eight state records. She's done it again, this time adding the title of national champion to her list of accomplishments.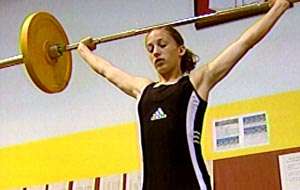 Michelle Glasgow: "Not really any different, I just have another medal. I don't think about it as that great. I mean, it's pretty cool."
Michelle spent this last weekend in Indiana competing with other young athletes from around the country. She said while at the national meet confidence came rather quickly.
Michelle Glasgow: "I looked at the starting attempts and mine was much higher, and so I was like, 'Oh ok,' and I was a little more calmed down after that, I thought, 'ok I can do this.'"
After a disappointing second attempt Michelle came back strong, breaking the Utah record she set earlier this year. She takes all the attention in stride.
Michelle Glasgow: "Everybody is always like that's so totally awesome. I'm just like, ok (laughs)."
According to Michelle, moments like this weekend make all the gym time worth it.
Michelle Glasgow: "When I'm done and I see my total and I know that I've won or whatever, just having the glory of it, I guess."
Michelle's next challenge is this weekend at the Utah Summer Games. She is seeking sponsorship to attend the Senior National meet taking place this fall.
×
Most recent Utah stories