Estimated read time: 6-7 minutes
This archived news story is available only for your personal, non-commercial use. Information in the story may be outdated or superseded by additional information. Reading or replaying the story in its archived form does not constitute a republication of the story.
Team CoverageBrennan Hawkins is spending the night in a bed for the first time in five nights. A team of doctors and nurses is watching over him at Primary Children's Medical center.
Doctors expect Brennan to stay just one night at Primary Children's hospital. They say he is in remarkably good shape--eating, drinking, and watching TV.
A wave from a very tired 11-year old Brennan as he's taken out of the ambulance and into the hospital, it's the first public glimpse of the boy that's been missing for four days. He is sunburned, bumped, scraped, and bruised, but otherwise in remarkably good shape, according to doctors.
Dr. Edward Clark, Primary Children's Medical Center: "By looking at him we could tell he was, oh, between seven and 10 percent dehydrated, and that would be what I would expect for a child who has been in the wilderness for that time."
KSL spoke with Brennan's older brother Taylor. He told us Brennan is good and "looked better than most of the guys searching for him."
From Brennan's parents, thanks to volunteers who searched and supported them during their ordeal.
Jody Hawkins, Mother: "You will never know of our love and support for each one of you. Our family and friends have been our rock."
Brennan is spending the night talking to family and friends, snacking on treats and resting. A phone call to a friend raised his spirits. But most of all, there is a feeling that all are part of a miracle.
Don Showalter, Family Bishop: "This is a very happy ending for which the family is so grateful for, and feel their prayers have been answered and their faith has been confirmed."
Jody Hawkins: "People say that the heavens are closed and God no longer answers prayers. We're here to unequivocally tell you that prayers are answered and children come home."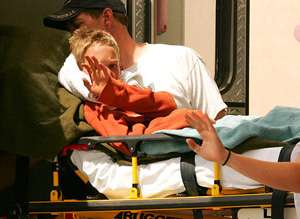 Here's something else that may prove Brennan is doing well. When he was first rescued, he snacked on granola bars and drank some water, then asked to play games on a rescuer's cell phone. We're told his skills were just as sharp as before.
The 11-year-old boy who vanished from a Boy Scout camp was found alive and in good condition Tuesday after an intensive four-day search of the rugged Utah wilderness.
Brennan was found just before noon near Lily Lake, about five miles from the camp in the Uinta Mountains where he was last seen Friday. He was reunited with his parents, Toby and Jody Hawkins, and their four other children.
Somehow Brennan walked over five miles away from his scout camp, including up a 10,000 foot ascent on the mountain.
Brennan carried no food or water, and his family had said he did not have a good sense of direction. But the sheriff said the nights had been warm, with temperatures falling only into the 50s. The area is about 100 miles northeast of Salt Lake City.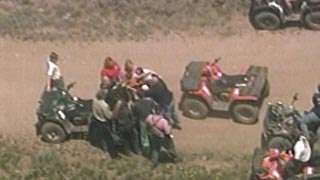 Volunteer Forrest Nunley, a 43-year-old house painter from Salt Lake City, said he found Brennan "standing in the middle of the trail. He was all muddy and wet."
Forrest Nunley: "I was up here about 8:30 or so. I drove around a couple hours, was just doing the thing. I looked at the ridgeline I wanted to go stop and walk along. I turned this little corner, looked up there, and there was a kid standing in the middle of the trail."
"I didn't know it was him. I was just like, 'is it real?' I asked him his name. He says, yeah, my name is Brennan. He was all muddy, and wet, his clothes. I took all his clothes off, his shirt and stuff. Put a shirt on him and a blanket. Gave him some food, water, and ran out and called 9-1-1."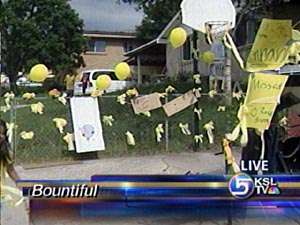 "Found him five miles up, way in the thickest stuff. You could barely make it on a four-wheeler. Five minutes ahead of me were some guys on horses. The kids said he saw the horses, but was scared, didn't want to come out. Didn't know if they were scary people. He just happened to come out when I was there."
Sheriff Dave Edmunds said investigators will wait until the boy has had time to recover before questioning him.
During the search, rescuers had feared the boy had fallen into a river that was swollen by heavy snow melt. The East Fork of the Bear River is within 100 yards of the road where the boy was believed to have been walking. Deep-water rescue teams searched the river, while others combed the rugged area around it.
Dozens of friends, neighbors and fellow church members wildly cheered the safe return of the missing boy with an impromptu celebration Tuesday on the family's front lawn.
"This is a miracle. This is how it should happen," neighbor Kristie Swain said after Brennan was located in the Uinta Mountains after being missing four days. "It shows that you don't give up. You just cannot give up."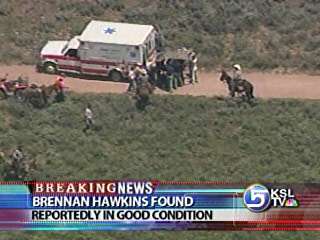 Neighbors and school children tied yellow ribbons to every part of the yard, the family's boat, trees, and anything and everything else on the on the two mile path leading to the Hawkins' home in this Salt Lake City suburb.
If neighbors didn't have any ready ribbon, they let their joy known by honking horns or holding up signs heralding Brennan's safe return to passing motorists.
Neighbor Hannah Broom, 12, can't wait to give Brennan a hug, and said the celebration was a far cry from Saturday morning, when her mother rushed into her bedroom looking for a back pack.
That came right after a leader in their Mormon church called nearby church members, asking for everyone's help.
Within 15 minutes of that call, her father, Joseph, joined several other neighbors headed to the Uintas to help search. Her mother, Jean, already was starting to get helpers organized to provide food for the family and volunteers.
"I didn't know what to think, this has never happened to someone I know," Hannah said.
Joseph Broom says he doesn't believe that there was a member of their church who wasn't doing something to help, from organizing supplies, making food and watching the children of those who were up in the mountains.
Neighbors Kristie and Mark Swain spent Sunday and Monday in the mountains helping search for Brennan. The Swains said they were overwhelmed by the outpouring of good deeds they have witnessed over the past few days.
"They're the silent good majority," Mark Swain said.
From the beginning, this reminded everyone of the long search for another missing scout, Garrett Bardsley. Garrett disappeared in the high Uintas last August, not far from where volunteers combed the mountain looking for Brennan. Despite an exhaustive search, Garrett has not been found.
Knowing exactly what the Hawkins family was going through, the Bardsleys quickly joined the search this week, offering advice and expertise.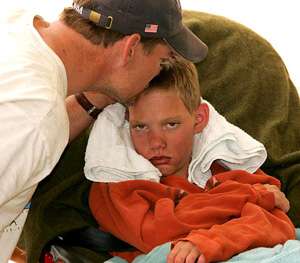 Sheriff Dave Edmunds, Summit County Sheriff's Office: "My heart goes out to them. As happy as I am for the Hawkins family, this brings back a lot of wounds from the Bardsley search and you know my deepest sympathies still go out to them, and it's hard to talk about that quite frankly."
The Garrett Bardsley Foundation told us tonight that finding Brennan Hawkins alive has given the group new resolve to go out once the snow melts, and finally bring Garrett home.
(The Associated Press contributed to this report.)
×
Most recent Utah stories