Estimated read time: 2-3 minutes
This archived news story is available only for your personal, non-commercial use. Information in the story may be outdated or superseded by additional information. Reading or replaying the story in its archived form does not constitute a republication of the story.
John Hollenhorst ReportingA Layton man is vowing to go to jail if need be in his fight with City Hall. His big lawn sign has riled some veterans. And city officials say it violates local ordinances.
When we first showed you Mike Norton's sign in January, the number was 1340 Americans killed in Iraq. Five-and-a-half months later it's 1724 and still counting.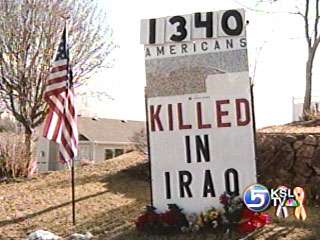 Mike Norton, Layton Resident: "It's a memorial to Americans killed in Iraq. When people ask me, 'So is it a protest sign?,' they ask me, I think all memorials are protest signs."
Layton officials have put Norton on notice to make changes, or else.
Steven Garside, Assistant Layton City Attorney: "We're not asking him to take the sign down. We're not regulating the content of the sign. Simply, in a residential zone, a sign can be no larger than 16 square feet and it's not to be lighted."
Norton's t-shirt says it all; he won't budge.
Mike Norton: "I think it's terribly ironic that Osama bin Laden is running free and I stand a real risk of going to jail because I'm honoring Americans killed in Iraq."
The city official in charge of enforcing the sign ordinance acknowledges that he drove past the sign on a daily basis, and didn't do anything about it until some veterans called and complained.
Scott Carter, Layton Dir. of Community Development: "They see it that they went to defend the freedoms of our country and he's showing something that they find offensive."
Not all veterans agree.
Bob Malinoski, Neighbor & Vietnam Vet: "If I really thought he was being demeaning to veterans, I'd tear it down myself."
But officials say content has nothing to do with enforcement.
Scott Carter: "He's being handled exactly like we handle anyone else."
The dispute is now the lead-story on Michael Moore's website. It alleges "blissful ignorance" on the part of Layton officials.
Mike Norton: "I think they're cowards. And I say, bring it on."
The next step is a citation. And then? Well, no one will rule out jail time. Layton officials say they're in no rush and hope the dispute can be resolved amicably.
×
Most recent Utah stories