Estimated read time: 1-2 minutes
This archived news story is available only for your personal, non-commercial use. Information in the story may be outdated or superseded by additional information. Reading or replaying the story in its archived form does not constitute a republication of the story.
Jed Boal Reporting The Utah County Bomb Squad went to work on Bridal Veil Falls today. They were tackling another phenomena left from a wild winter.
Bridal Veil Falls always attracts a lot of attention, today even more. A winter avalanche swept a mountain of snow and logs to the base of the falls.
James O. Tracy Jr., Utah County Sheriff: "With the debris on top it slows down the melting process with the pine needles and the dirt."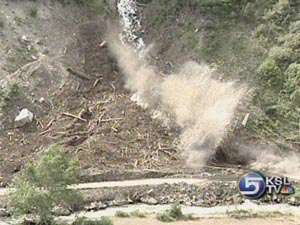 Water from the Falls cut a tunnel through the ice and created a cave with ice 15 feet thick.
Lt. Dave Bennett, Utah County Sheriff's Office: "Some of our public works people saw families going up in there and we were worried it would collapse and hurt or kill someone."
High temperatures threatened to collapse the cave.
Lt. Dave Bennett: "It was almost like being in the shower, dripping on the sides and edges."
So they blasted the ice, but the cave did not collapse.
Lt. Dave Bennett: "The bomb squad only hit it with 38 pounds of explosives, about half the amount they wanted to use. They couldn't blow it sky high because there is a 24-inch water main along this path."
So the squad blasted a few more times. Ice chunks flew through the air and the cave finally came down.
The area can still be dangerous and slippery near the falls. The pile of ice is stable, but presents its own dangers.
×
Most recent Utah stories