Estimated read time: 6-7 minutes
This archived news story is available only for your personal, non-commercial use. Information in the story may be outdated or superseded by additional information. Reading or replaying the story in its archived form does not constitute a republication of the story.
KAMAS, Utah (AP/KSL News) -- The 11-year-old boy who wandered lost for four days in a mountain wilderness before rescuers found him made his first public appearance Wednesday afternoon. He and his family emerged from their Bountiful home to answer questions.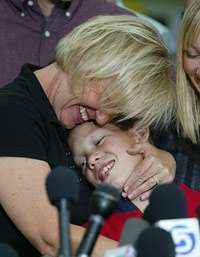 Brennan didn't say much, but did tell us, "I have the best family in the world."
Brennan's family says he doesn't remember much about the ordeal. In fact, he doesn't even remember going camping, just walking uphill. And he thought he had only been lost one or two days.
His older brother commented that they now "have a better appreciation for Brennan, we're going to treat him much better than we did before."
The family also credited divine intervention for their happy ending, commenting on the good weather and a sense that he would be okay.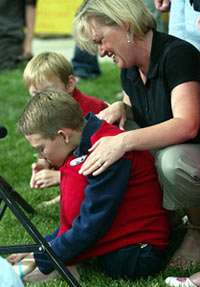 Brennan was released from a hospital early Wednesday, a spokeswoman said.
Brennan Hawkins was found in good condition Tuesday by a 43-year-old house painter on an ATV who was out looking on his own, miles outside of active search grids.
"Brennan continues to amaze us," his father, Toby Hawkins, said at a news conference outside their home. "You know, his ability to deal with this initially, I made the comment that I thought that he was the most ill-prepared out of our five children to deal with it, and now I think he was maybe the best prepared."
Brennan left Primary Children's Medical Center in Salt Lake City not long after midnight, said Bonnie Midget, a hospital spokeswoman. Doctors had said they wanted to keep him at least overnight for tests, said Dr. Ed Clark, the hospital's medical director. "He's been sleeping a lot. He's exhausted," his mother said.
Brennan is sunburned, bumped, scraped and bruised but otherwise in remarkably good shape. Dr. Clark said, "By looking at him we could tell he was between seven and ten percent dehydrated, and that would be what I would expect for a child who has been in the wilderness for that time."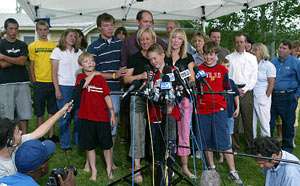 His mother said his electrolytes were normal, meaning he likely drank water from mountain streams when he was lost. They don't believe he ate much during the ordeal, but haven't discussed much about his four missing days.
"It's going to take a while to get everything out," Toby said. "This is how he approaches all situations."
They said Brennan does not remember much, and they don't plan push him to talk about his four days in the woods.
He did discuss why he was scared of men and women he did see in the woods on ATVs and horseback, however, and why he hid from them.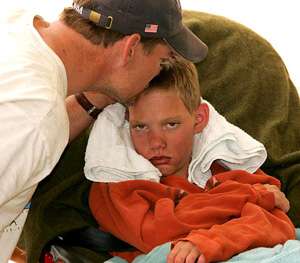 "He gets very focused on something," she said of the two thoughts that went through his head: stay on the trail if you get lost and "don't talk to strangers."
His father, Toby, said they never discussed how that should be changed if you get lost.
"This may have come to a faster conclusion had we discussed that," he said.
Brennan, described by his parents as a spirited child who loves collecting Pokemon cards, apparently eluded thousands of searchers by defying conventional wisdom: He went up instead of down.
Sheriff Dave Edmunds had said Brennan would have been more likely to head down a river valley from a 530-acre Boy Scout camp in the Uinta mountains.
"Typically children walk downhill, along the least path of resistance," he said. That possibility raised particular fears because the East Fork of the Bear River, which is normally ankle-deep, was swollen by heavy mountain snow melt.
However, Brennan had hiked some 600 feet higher and more than five miles into the mountains to the spot where searcher Forrest Nunley found him before noon Thursday.
"I turned a corner and there was a kid standing in the middle of the trail. He was all muddy and wet," from walking over wet ground, said Nunley, who dialed 911 on his cell phone and said he was lucky to find a signal.
A friend of Brennan's spoke with him at the hospital last night, and said that Brennan told him he became lost when he took a different route and got off the trail. During the four days, he says Brennan slept a lot and pulled his sweatshirt over his legs to keep warm.
"He slept and he and he thought about stuff about what he would want to do that kept his mind away from other things that would scare him," said Josh Packard, Brennan's friend.
Josh also says Brennan looked worse on T-V than he does in real life.
"People say that the heavens are closed and God no longer answers prayers. We are here to unequivocally tell you that the heavens are not closed, prayers are answered and children come home," said Brennan's mother, Jody Hawkins.
The boy had seen some searchers on horseback but avoided them because he was scared, Nunley said. "He was a little delirious. I sat him down and gave him a little food."
His mother said Wednesday he told his parents he was afraid of the strangers, because "I didn't want someone to steal me."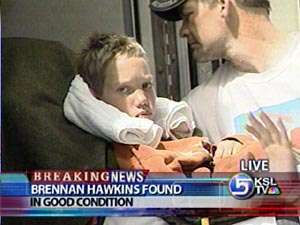 After downing bottles of water and eating all the granola bars carried by a group of volunteer searchers, the boy asked to play a video game on one rescuer's cell phone, the sheriff said.
The youngster from the Salt Lake City suburb of Bountiful was found on a 9,400-foot pass above Lily Lake, a summer-only campground in the Uinta range. He was quickly reunited with his parents and their four other children.
The boy and his family rode to the hospital together in an ambulance. "He laughed on the way here, just like he always has," his mother said. With a towel around his neck, Brennan waved to reporters as he was unloaded from the ambulance.
In Bountiful, an impromptu celebration was held Tuesday on the Hawkins' front lawn.
"This is a miracle. This is how it should happen," neighbor Kristie Swain said. She and her husband, Mark, spent Sunday and Monday helping search for Brennan.
"It shows that you don't give up. You just cannot give up," she said.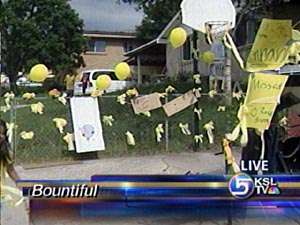 Neighbors and schoolchildren tied celebratory yellow ribbons to every part of the Hawkins' yard, the family's boat, and trees surrounding the home. Others honked car horns or held up signs heralding Brennan's safe return.
The boy carried no food or water when he vanished Friday, and his family had said he did not have a good sense of direction. But the nights were mild, with temperatures falling only into the 50s.
Officials said Brennan disappeared somewhere along a dirt road between the Scout camp's artificial climbing wall and the "chow hall," where he was to meet a friend.
It was not yet known how he spent his four nights in the woods, or whether he had been trying to find his way back to the Boy Scout camp. "He was in no mood to give us some details," the sheriff said. "He just wanted to eat and see his Mom."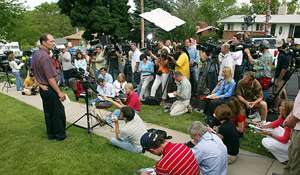 The enormous search had included thousands of volunteers, platoons of all-terrain vehicles, horses and helicopters, including some equipped with infrared devices.
"Words cannot express the appreciation that we feel for all that have done so much," read a message on the family's Web site.
"He was worth everyone's efforts and everyone's prayers -- you will always be in our prayers."
(Copyright 2005 by The Associated Press. All Rights Reserved.)
×
Most recent Utah stories