Estimated read time: 1-2 minutes
This archived news story is available only for your personal, non-commercial use. Information in the story may be outdated or superseded by additional information. Reading or replaying the story in its archived form does not constitute a republication of the story.
Sammy Linebaugh reportingNo doubt there is great joy in a Bountiful neighborhood, after Brennan Hawkins was released from the hospital this morning.
Dozens of friends, neighbors and church members had an impromptu celebration, yesterday, on the family's front lawn, when they heard Brennan had been found.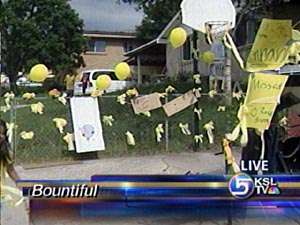 Neighbors say it's been an exhausting week of long prayers and sleepless nights.
Neighbor Marissa Wall says, "I have a three-year-old, and every night in his prayers, without any prompting, 'Please help us find Brennan.' They just knew he was going to be there."
Neighbors and school children tied yellow ribbons to every part of the family's yard, boat, trees, and anything and everything else on the two mile path from the freeway to the Hawkins' home.
Brennan's brother says he's doing very well.
Taylor Hawkins: "He's a little bit dehydrated. They're just slowly feeding him now. The only thing I saw he had some sunburn on his lips. But as far as I saw he was cleaner than most of the guys searching."
Some of Brennan's friends say Brennan is pretty shy, so he may be caught off guard by all the hoopla.
But we're sure all of those friends will be happy to give Brennan a big hug, and are just glad to know he's okay.
×
Most recent Utah stories