Estimated read time: 2-3 minutes
This archived news story is available only for your personal, non-commercial use. Information in the story may be outdated or superseded by additional information. Reading or replaying the story in its archived form does not constitute a republication of the story.
Samantha Hayes reportingDave Burke, Witness: "Lucky I wasn't in it, but I wish I didn't have to see it."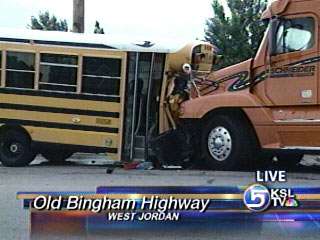 It's the kind of accident that scares you to death if you do see it: A head-on collision.
It happened twice today in the Salt Lake Valley. Two cars collided in Taylorsville, and in West Jordan, a bus full of children hit a semi truck.
Police say both accidents happened when the drivers drifted into oncoming traffic.
Both of the two serious accidents were head-on collisions. In one, injuries are minor, the other, victims in critical condition.
About 3:30 this afternoon a semi-truck and a school bus hit head-on in West Jordan on the Old Bingham Highway. Fortunately, it looks much worse than it is.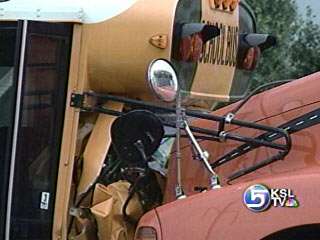 Jennifer Cross, Witness: "I had just pulled in my garage and heard a huge bang and so I looked out my window and i saw the bus and the truck" There were 14 students from Westridge Academy, which is part of the Utah Boy's Ranch, on the bus and three adults, when it hit the semi head-on.
Police say the bus was eastbound at 4600 West and Old Bingham Highway. The semi truck was on the highway- westbound. The bus driver told authorities he was tired, and may have dosed off when the vehicle crossed the center line.
Jason Crosley: "The diesel skidded for a long time, seemingly. It felt like a long time. And then hit this really hard. The impact was loud. I just ran over and I saw one kid lying over the front seat, screaming."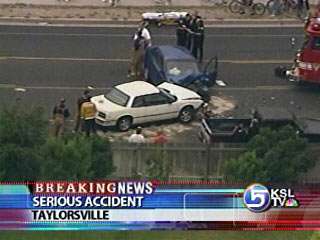 In Taylorsville near 4000 W. 5855 South, police say a driver leaned over to pick something off the floor..causing another crash.
Dave Burke, Witness: "The white car made a right turn off the street over here and the blue car just swerved into this lane and hit him almost head on.."
Medical helicopters flew three of the victims, including a young child, to the hospital. The 4 year old was not in a car seat.
Lt. Wayne Dial, Taylorsville Police Dept.: "Restrained in a seat belt but not a child restraint. So we encourage the public again to use car seats for young children, infants at all times."
Accident reconstruction teams are on both scenes to determine what exactly happened.
×
Most recent Utah stories