Estimated read time: 2-3 minutes
This archived news story is available only for your personal, non-commercial use. Information in the story may be outdated or superseded by additional information. Reading or replaying the story in its archived form does not constitute a republication of the story.
John Hollenhorst ReportingNow that much of the winter snow has melted away in Little Cottonwood Canyon, it's giving hikers unusually easy access to an amazing sight. Just a short walk off the highway, there's a dramatic illustration of Nature's awesome power.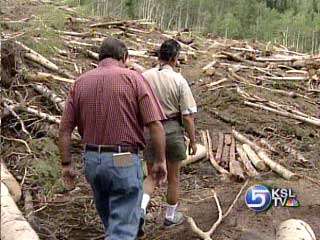 You've surely seen video of avalanches. Even the biggest seem, well, kind of soft and pillowy. But when summer comes a walk into the guts of a big avalanche can be an eye-opener.
Loretta Heidelberger, Salt Lake City: "Well I am just so shocked. I can't believe this. It looks like a nuclear devastation right in this section. I cannot believe it."
If you've ever played pickup sticks, this might remind you of it, except these sticks are thousands of big trees, ripped out of the ground, and thrown down the mountainside by a wall of snow moving a hundred miles an hour.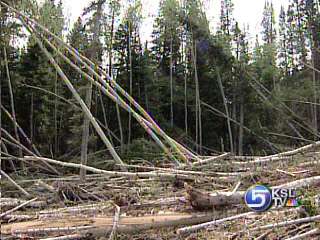 Celeste Heidelberger, Lakeville, Minnesota: "It's breath-taking and it just gives you a special awe of the power of Mother Nature and to respect that power."
Compacted snow is trapped under the debris. It may last until next winter. Little Cottonwood Creek is jammed with hundreds of logs that were living trees until a big slide there in January. Veteran avalanche forecaster Al Soucie says many of the trees may have been literally blown down.
Al Soucie, Snow Ranger, U.S. Forest Service: "I'll bet there was an air blast out in front of this that was like a hurricane-type force."
By the standards of the Wasatch Front, this was a big slide, but not a monster. As far as we know, no one got buried.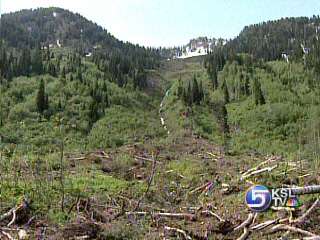 Al Soucie: "I'm just awed. I'm always awed, glad that I wasn't there."
Think of this as a rude reminder for recreationists. If it would do this to a forest, imagine what it would do to a human body.
Soucie says the lesson is that back-country recreationists must be prepared. Proper gear and up-to-date avalanche forecasts are all we have to stand against the power of nature. With seven deaths, last winter was Utah's deadliest for avalanches in a half century.
×
Most recent Utah stories