Estimated read time: 2-3 minutes
This archived news story is available only for your personal, non-commercial use. Information in the story may be outdated or superseded by additional information. Reading or replaying the story in its archived form does not constitute a republication of the story.
Keith McCord ReportingThe Sweet Candy Company, which has been operating in Salt Lake for 113-years, is now conducting free public tours for the first time in it's history. Keith McCord says you've got to see it!
First of all they make your mouth water a bit with giant vats of brightly colored salt-water taffy.
Curtis Andersen, VP Sweet Candy Co.: "And the taffy is whipped in those taffy vats. The taffy is 180-degrees as it is being cooked."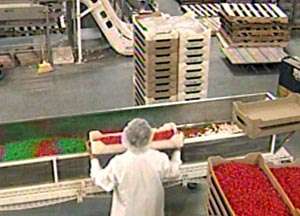 If chocolate-covered orange and raspberry sticks are more your style then you should check out that machine. Or how about a few million jelly beans?! The machines at Sweet Candy Company are going 20-hours a day, producing 250 different types of candy. But the biggest seller is the salt water taffy-- nearly 8-million pounds each year!
Curtis Andersen: "And if you took all of that taffy and placed it together in a big long taffy rope like some people do on their Christmas tree, it would reach three-fourths of the way around the world. A lot of taffy!"
Sweet Candy was founded by Leon Sweet back in 1892, nd the family still owns and operates it, for five generations now. The old building on 200 West was a fixture in downtown Salt Lake. At first the company made hard candies and dipped chocolates; it wasn't until the 1940's that the salt-water taffy came along.
Since 1999 the company has operated out of a huge facility near the airport, and through the end of August, you can take a free tour! 130,000 square feet of sugar, corn syrup, chocolate, and all kinds of flavorings and colors – it's pretty sweet!
By the way, salt-water taffy has no salt water in it. The tour guides will explain where the term came from. Tours take place every half hour from 10am to 4pm Mondays thru Thursdays.
×
Most recent Utah stories