Estimated read time: 2-3 minutes
This archived news story is available only for your personal, non-commercial use. Information in the story may be outdated or superseded by additional information. Reading or replaying the story in its archived form does not constitute a republication of the story.
Sam Penrod ReportingA Utah man who has promoted the use of peyote in what he claims are Native American religious ceremonies was arrested today. James Mooney, his wife, and an associate now face federal drug charges.
This isn't the first time Mooney has had a run in with the law. He successfully fought state charges for distributing peyote. But now it is the federal government who argues Mooney is violating the law.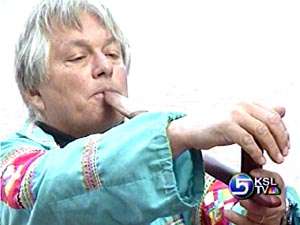 Last September James Flaming Eagle Mooney smoked legal herbs to celebrate a Utah Supreme Court ruling in his favor. For four years Utah County prosecutors pursued drug charges against Mooney for distributing peyote. Mooney maintained that anyone, regardless of their race, can participate in Native American Religious ceremonies and use the drug peyote.
James Mooney: "You cannot legislate religious and spirituality by race or political affiliation, for goodness sake."
But now this 19-count indictment by a federal grand jury says that what Mooney did was illegal. Federal prosecutors say that while ceremonial use of peyote is a protected right for Native Americans, they claim Mooney misrepresented himself as a Native American and has no connection to any Indian tribe that is federally recognized.
Mooney's arrest is welcome news to the leader of Utah's Native American Church, who is a member of the Cherokee tribe.
Jeff Merkey, Presiding Elder, Utah Native American Church: "Because of efforts by non-Indians to promote the use of peyote for drug use, for recreational drug use, and that simply was not the intention of congress. And allowing non-Indians is not protecting or furthering the Indian culture."
In fact, many Native American organizations across the country have objected to Mooney's use of peyote, fearing the exemption for Indians to use peyote could be revoked. Merkey says Mooney has no proof to call himself a Native American.
Jeff Merkey: "Upon information and belief I believe he is not a person of Indian ancestry, and that he has been engaging in the use of peyote for non-religious purposes and for profit."
Mooney will be in federal court tomorrow morning to be arraigned on these new charges.
×
Most recent Utah stories