Estimated read time: 2-3 minutes
This archived news story is available only for your personal, non-commercial use. Information in the story may be outdated or superseded by additional information. Reading or replaying the story in its archived form does not constitute a republication of the story.
John Hollenhorst Reporting "A black cow, after midnight, there's no way she could have seen it."
A fatal accident involving a Black Angus steer, and today a Cache County rancher was bound over for trial on manslaughter charges. It's the first case in memory in which a rancher is blamed for a death caused by livestock.
Prosecutors say they wouldn't ordinarily file criminal charges in a fatal collision like this, but they say there's nothing ordinary about the case of rancher Darrell Kunzler.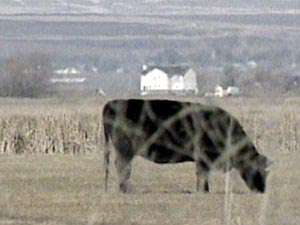 Darrell Kunzler's cattle get loose 20 times more often than the average rancher. That was the testimony from the Utah Highway Patrol. On this stretch of highway, officers say Kunzler's cattle have gotten onto the road scores of times. And they detailed about a dozen car vs. cattle collisions in the last 15 years.
The worst was last Thanksgiving night. Kimberly Johnson of Auburn Washington, driving in the dark with two of her kids, plowed into a Black Angus standing in her lane. She was killed instantly.
Carla Johnson, Victim's Mother-in-Law: "There's six children all at home needing a mother."
Her relatives say it's Kunzler's fault.
Carla Johnson: "I don't wish bad luck on anybody, really, except, I feel like he needs to pay for his negligence."
Greg Skordas, Defense Attorney: "Darrell is just heart-broken about this whole thing."
Kunzler's defense attorney says the case should never have been filed.
Greg Skordas, Defense Attorney: "You have to show that somebody had criminal intent, or they had an evil mind, so to speak. Accidents happen, bad things happen to very good people and that's really what happened here."
But lawmen testified to a pattern of negligence stretching back more than three decades. They say they repeatedly warned Kunzler that he needed to get his cows under control or someone would get killed.
Col. Claron Brenchley, Utah Dept. of Public Safety: "He just says, you know, he didn't care if the cattle, if they got hit, as long as they paid for the cattle with their insurance, he didn't care. It was ok with him."
A retired rancher friend of Kunzler says he is a caring man, but drivers have responsibility too.
Keith Coombs, Retired Rancher: "No matter how well you try to protect it, there's still going to be one get out once in a while. That's just livestock."
×
Most recent Utah stories