Estimated read time: 2-3 minutes
This archived news story is available only for your personal, non-commercial use. Information in the story may be outdated or superseded by additional information. Reading or replaying the story in its archived form does not constitute a republication of the story.
Sammy Linebaugh ReportingAll the rain this spring means one thing for white water fans, the rapids are raging. Adventurers are heading to Moab by the boat load.
High water heaven. It hasn't been like this, guides say, since the mid-90's.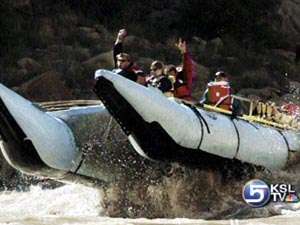 Mike Estenson, River Guide, Western River Expeditions: "From the bottom of the trough to the top of the peak you've got 30 foot wave faces that are standing boats on end."
Valerie Packer, Salt Lake City: "When you see the rapids you just get more and more excited -- this is what I came here for."
Rich Packer: "You go in scared to death and come out screaming for more."
The Colorado River's Cataract Canyon this year is a wild, express ride from Moab to Lake Powell. There are 29 marked rapids in Cataract Canyon. High water makes some of those disappear altogether, while others become bigger and better than ever.
In May, river flow peaked at 69,000 cubic feet per second. Smaller rafts, just like the Biblical Jonah, could be swallowed then mercifully spit out.
Mike Estenson: "It's nerve-racking, because literally you've got people's lives in your hands."
Mike Estenson has been guiding for Western River Expeditions since 1990. Some flat water shows water levels have dropped just since spring runoff. Still, he says, the Colorado's banks are bloated.
Mike Estenson: "It's a good 15 to 20 feet higher."
And that is good for business.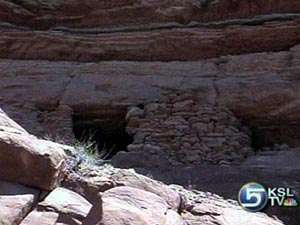 With a motor adventurers can cruise the entire 100-mile stretch of canyon in a single day, even take time for sight-seeing.
Mike Estenson: "We're looking at about 2,000 vertical feet from the river here up to the top of Dead Horse Point."
A short walk from the riverbank rafters take a hike into history, finding Native American cliff dwellings dating back centuries
Scot Johnson: "You can see where they put their fingers and knuckles."
You can even see a former movie set for Thelma and Louise.
Mike Estenson: "Thelma and Louise, when they drove their car off into quote "The Grand Canyon," it was actually here."
Oh the stories these walls could tell, the dreams their shapes inspire from one rapid to the next...
Scott Winterton, Deseret News Photographer: "The water, the power, the beauty, everything."
×
Most recent Utah stories