Estimated read time: 1-2 minutes
This archived news story is available only for your personal, non-commercial use. Information in the story may be outdated or superseded by additional information. Reading or replaying the story in its archived form does not constitute a republication of the story.
Sam Penrod Reporting"It's just a very unfortunate incident that occurred due primarily to speed and alcohol."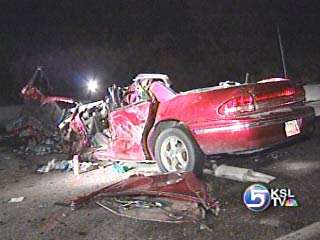 A deadly crash on Highway 6 in Spanish Fork Canyon. One man is killed and several are hurt. It is the latest deadly crash along Highway 6. The crash is being blamed on a driver who was drunk.
Highway 6 has a reputation as a deadly highway, but last night highway patrol troopers say it was alcohol that was a factor in the wreck that caused one man to die early this morning.
The crash happened just after dark in Spanish Fork Canyon. Five men were in a red car, driven by 21-year old Joshua Jackman of Moroni. Troopers say they smelled alcohol at the scene and that Jackman was speeding and likely had been drinking. He crossed the center median and sideswiped an oncoming semi truck. From there, things only got worse.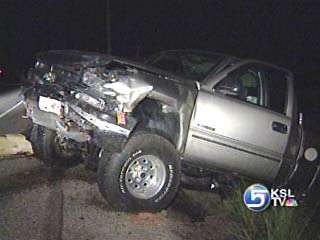 Sgt. Brett Christensen, Utah Highway Patrol: "The driver of the car lost control, the car spun sideways and was struck by an eastbound pickup truck."
The impact of that second crash was so intense it knocked the front end of the red car off. Jackman remains in critical condition this afternoon. His passenger in the front seat, 22-year old Travis Terry of Moroni, later died. In all, nine people were in the three vehicles.
All of the other victims were taken to the hospital, most were treated with only minor injuries.
Troopers are now awaiting test results to determine if the driver was indeed driving with blood alcohol levels over the legal limit.
×
Most recent Utah stories