Estimated read time: 1-2 minutes
This archived news story is available only for your personal, non-commercial use. Information in the story may be outdated or superseded by additional information. Reading or replaying the story in its archived form does not constitute a republication of the story.
Carole Mikita ReportingWe reported this year the economy both nationally and in Utah is on an upswing. Businesses are succeeding again. So, how are ticket sales at the Utah Shakespearean Festival?
They're doing very well this year. Their business is art, but in order to succeed year after year, their art also has to be good business.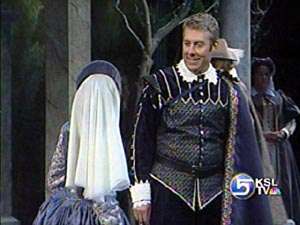 Will it be the fairies and frivolity of 'A Midsummer Night's Dream', or the passionate and powerful message of 'Romeo and Juliet?' Perhaps the beautiful, comedic valentine, 'Love's Labor's Lost' will attract audiences once again to the Utah Shakespearean Festival.
Every year, programmers wonder, 'if we build it, will they come?' This year, it's a resounding yes.
Fred Adams, Founding Producer: "At the time of opening we're about eight percent ahead of last year, which was about two percent the year before, so we can see the cycle now shooting upwards."
Competition for the arts dollar is key. Even with the theatre's highest honor three years ago, the Tony Award, it's no guarantee.
R. Scott Phillips, Festival Managing Director: "I think artistically, if we continue to grow stronger and better each and every year, and of course that's what we need to do, that's what it's about, to stay competitive with everything else that people have time to do. "
In a short amount of time, this festival wants to raise enough money for a new theatre. Shakespeare's home is 30 years old.
R. Scott Phillips: "We have the property for it. We have the design for it. So, I don't know if it'll be three years or five years, but it is going to happen."
×
Most recent Utah stories