Estimated read time: 2-3 minutes
This archived news story is available only for your personal, non-commercial use. Information in the story may be outdated or superseded by additional information. Reading or replaying the story in its archived form does not constitute a republication of the story.
Alex Cabrero reportingDerik Sayers, Kiteboarding Instructor: "He was a good kiteboarder. He was as close as Utah had as a pro."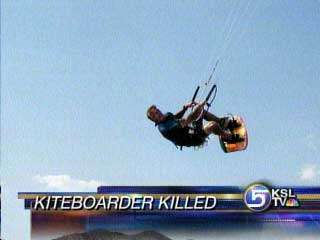 The close knit community of kiteboarders remembers one of its own, tragically killed in a freak accident on a lake in Tooele County. The Salt Lake man was kiteboarding on Rush Lake, when heavy winds picked him up and slammed him onto the water over and over again.
Kiteboarding is one of those extreme sports where you get addicted to the adrenaline rush, As much fun as they are, though, you have to respect their dangers.
Derek Sayers does, because he had the same accident Cummings did. But he lived.
Every time Derik Sayers goes into his shed, he's hit with the memories of why he can't do a sport he loves.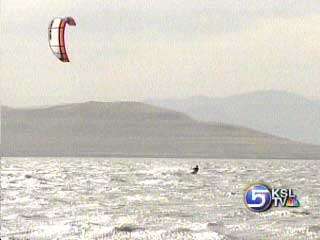 Derik Sayers, Kiteboarding Instructor: "I don't even remember how I got off the lake that day."
It's been a year since his accident on Utah Lake that left him in a coma for two weeks. He was kiteboarding, when the wind picked up, picked him up, and slammed him back down without notice.
Derik Sayers, Kiteboarding Instructor: "The weather can turn on you instantly, and the wind can go from 25 miles per hour, to 45, 55, 65. It was clocked at 75 miles per hour yesterday."
That's too much for even a pro to handle. Too much for Mitch Cummings to handle.
He was on Rush Lake yesterday near Stockton when the wind picked him up, and slammed him down several times.
Derik Sayers, Kiteboarding Instructor: "The impact of hitting the water would've knocked him unconscious."
Ultimately, killing him.
Derik Sayers, Kiteboarding Instructor: "I could imagine that he went 50-75 feet into the air before he even knew what happened."
Sayers demonstrated for us what he thinks probably happened.
Derik Sayers, Kiteboarding Instructor: "If something goes wrong, and you need to get out, you can just release here, and that lets everything go."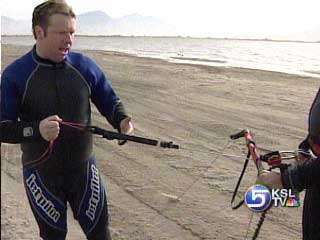 But for some reason, Cummings couldn't release, and just kept getting dragged by his kite and the wind until it was too late.
Derik Sayers, Kiteboarding Instructor: "From now on, every kiteboarder should wear a helmet and a safety release system that is automatic."
The kiteboarding community is a close knit group.
Many of them are planning a memorial on Rush Lake tomorrow night to honor Mitch... who leaves behind a wife and family.
×
Most recent Utah stories