Estimated read time: 4-5 minutes
This archived news story is available only for your personal, non-commercial use. Information in the story may be outdated or superseded by additional information. Reading or replaying the story in its archived form does not constitute a republication of the story.
ST. GEORGE, Utah (AP) -- A fast-burning fire that quadrupled in size Sunday was threatening a small southwestern Utah town, while firefighters made progress on a separate wildfire, holding the state largest blaze to near 60,000 acres.
Causing the most concern Sunday was the Blue Springs Fire burning about 20 miles north of St. George.
Around 6pm Sunday evening, the fire forced the closure of I-15 between Leeds and the Iron County border, due to decreased visibility from the smoke.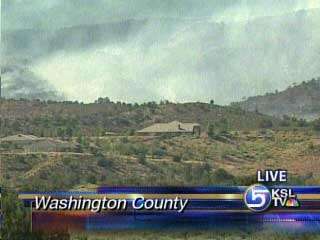 Officials said the fire, which is burning along the west side of the highway, grew from 2,000 acres to 8,000 acres in less than 12 hours, and by late Sunday was within five miles of New Harmony. The fire caused Interstate 15 to close overnight on Saturday.
"That's going to be our nightmare," said fire commander Taiga Rohrer, watching plumes of smoke billowing off the Black Ridge Mountains, about 280 miles south of Salt Lake City.
As Lea Twitchell and her family prepared to evacuate their New Harmony home, her thoughts were with her son, Luke, a first-year firefighter for the Bureau of Land Management fighting the southern Utah blaze.
"He just started on that crew, and I'm a little nervous because we haven't heard from him," she said Sunday afternoon while watching as flames neared the top of a ridge three miles away. They were told to leave if it reached the top.
"At church today, the bishop told us all to go home and get our valuables together, just in case," she said. Church members were calling everyone on a phone tree Sunday, and visited other neighbors who weren't on the list or don't have phones.
Her husband, Craig Twitchell, and younger son, Greg Barnes, were mowing high weeds near their house, and her 17-year-old daughter, Christie Barnes, was gathering food for three horses, three dogs, three daughters, five ferrets, hamster and guinea pig in case flames reach top ridge top.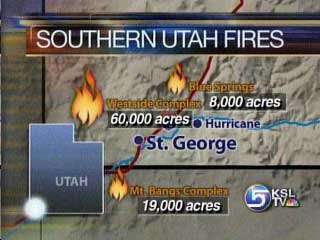 She said smoke and ash had already built up a layer on the cars. "It's a little bit irritating to breathe," she said.
Fire officials in Washington County, where the blaze started, were conferring with counterparts in Iron County about an evacuation plan for those living in the southern part of New Harmony, population 190, if the fire continues to spread.
The fire with 10-foot tall flames was started Saturday by lightning strikes, and at one point jumped the interstate and burned about 14 power poles. State officials closed the highway, the major route between Salt Lake City and Las Vegas, for about seven hours overnight.
It was closed again late Sunday because of safety concerns and to allow helicopters to drop retardant. Fire crews also burned an eight- to 10-mile swath of land adjacent to the interstate to prevent it from jumping the road again.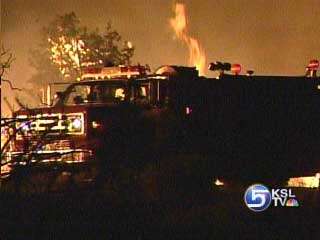 The fire was fueled Sunday by temperatures in the high 90s, wind gusts of 25 mph and low humidity.
At least eight homes near Pintura were evacuated, but no structures had burned, said fire commander Taiga Rohrer.
Conditions were markedly different about 20 miles southwest, where the state's largest fire had burned about 60,000 acres.
With temperatures about 5 degrees lower and winds less than 10 mph, firefighters were able to keep the blaze from growing. It was 15 percent contained and was expected to be fully under control by late Thursday.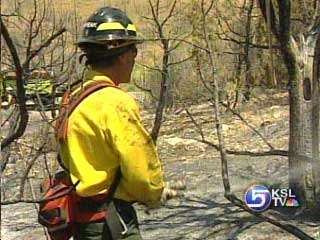 Ground crews worked to cut off the head of the fire and were using a bulldozer to cut a firebreak through the rough, hilly country.
Four helicopters were picking up as much as 1,000 gallons of water from two nearby reservoirs to douse the flames.
"We've had very low flame heights and really no smoke, so we've modified our attack plan," fire information officer David Olson said, adding that crews would work until midnight to keep on top of the fire.
On the southeastern perimeter of the fire, crews spent much of Sunday doing "mop up" work.
Olson said officials were considering allowing residents evacuated from Gunnison to return home. Some residents had never left despite the evacuation order on Saturday.
The tiny reservation community of Shivwits, home of the Shivwits Band of Paiutes, was on a one-hour evacuation order Sunday.
Alternate Route: Cedar City to St. George
From Cedar City take Exit 59
Head westbound on SR56 to milepost 20
Turn south on SR18
SR18 will take you to St. George where you can resume travel on the interstate at either exits 8, 6, or 4. To go north from Saint George you can take the same route northbound on SR18 or go to the east on SR9 or SR59. (Copyright 2005 by The Associated Press. All Rights Reserved.)
×
Most recent Utah stories