Estimated read time: 3-4 minutes
This archived news story is available only for your personal, non-commercial use. Information in the story may be outdated or superseded by additional information. Reading or replaying the story in its archived form does not constitute a republication of the story.
ST. GEORGE, Utah (AP/KSL News) -- Firefighters are making progress on the state's southwestern Utah fires. They hope to start getting a containment line around the eight thousand acre fire five miles from New Harmony today.
Last night, firefighters conducted a backburn about one mile from New Harmony to create a fire break and keep flames away from the community. No homes are considered in immediate danger this morning.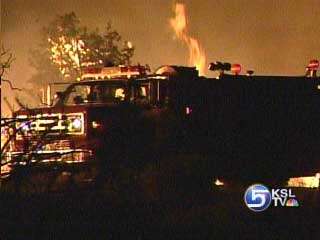 That fast-burning Blue Springs fire quadrupled in size yesterday.
Meanwhile firefighters made progress on a separate wildfire, the Westside Complex fire, that was blackening almost 70,000 acres near Gunlock.
Causing the most concern was a fire burning about 20 miles north of St. George. Officials said the fire grew from 2,000 acres to 8,000 acres in less than 12 hours, and by late Sunday was within five miles of New Harmony.
The blaze was one of 19 active fires burning 500,000 acres in Alaska, Arizona, California, Idaho, Nevada, New Mexico and Utah, according to the National Interagency Fire Center.
As Lea Twitchell and her family prepared to possibly evacuate their New Harmony home, her thoughts were with her son, Luke, a first-year firefighter for the Bureau of Land Management fighting the southern Utah blaze.
"He just started on that crew, and I'm a little nervous because we haven't heard from him," she said Sunday afternoon while watching as flames neared the top of a ridge three miles away. They were told to leave if it reached the top.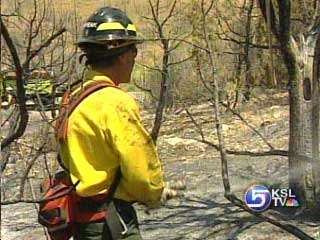 "At church today, the bishop told us all to go home and get our valuables together, just in case," she said. Church members were calling lists of parishioners Sunday, and visited other neighbors who don't have phones.
The fire with 10-foot tall flames was sparked Saturday by lightning strikes, and at one point jumped the interstate. State officials closed the highway, the major route between Salt Lake City and Las Vegas, for about seven hours overnight Saturday, and again briefly late Sunday to allow helicopters to drop retardant.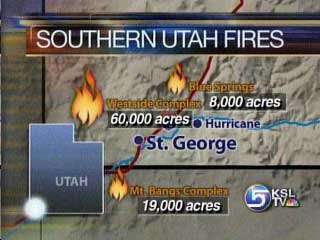 About 20 miles southwest, the state's largest fire scorched 68,264 acres, though firefighters were able to keep the blaze from growing thanks to winds of less than 10 mph. This fire is 70 percent contained Monday morning. It was expected to be fully contained by Monday night or Tuesday.
In California, firefighters were close to containing a massive fire in the Mojave National Preserve that blackened some 67,000 acres and destroyed five homes and two cabins built in the late 1800s.
Milder than expected winds from a cold front and steep terrain helped slow down the fire, which was 65 percent contained by late Sunday. Full containment was expected Monday.
"It was still hot but the winds were mild. And the humidity was still low but it wasn't down in the single digits," said Capt. Greg Cleveland, a spokesman with the Southern California Incident Management Team.
The fire formed after lightning sparked five separate blazes Wednesday afternoon near the Nevada state line. Those smaller blazes eventually merged and were burning at the edges of critical territory for the threatened desert tortoise.
The fire scorched sections of the preserve containing historic mines and sites of ancient Indian pictographs, but the extent of the damage was unknown. Six trailers or other structures also were destroyed.
In Arizona, a wildfire burning northeast of Phoenix had consumed 92,145 acres by Sunday night. The fire was growing to the north and northeast, away from populated areas that had initially been threatened by the lightning-sparked fire.
A 345-kilovolt line that delivers power from Glen Canyon Dam to the Phoenix area was de-energized around 11 a.m. Sunday because of the fire, said Mary Malene, a fire spokeswoman. However, power in the Phoenix area was not expected to be affected as utilities were rerouting other power sources, officials said.
In Washington, a wildfire burning grass and wheat fields on farmland in Walla Walla County had blackened 22,000 plus acres by Sunday night, with smoke from the fire reported as far as Spokane, about 100 miles north.
(Copyright 2005 by The Associated Press. All Rights Reserved.)
×
Most recent Utah stories