Estimated read time: 2-3 minutes
This archived news story is available only for your personal, non-commercial use. Information in the story may be outdated or superseded by additional information. Reading or replaying the story in its archived form does not constitute a republication of the story.
Jed Boal ReportingWith a long holiday weekend approaching, many people plan to escape the heat in the mountains. Many Campsites are booked, but you can usually find a slice of solitude somewhere in Utah.
Fourth of July camping is a great tradition and Utahns will make a bee-line for camping areas later in the week. Robin Rothfeder and Julianne Thompson may just have one of the coolest campsites in the country right now.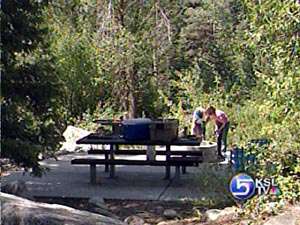 Julianne Thompson, Camper: "I think it's beautiful. I've never been to Utah. I didn't imagine what it would look like, and it's gorgeous."
They beat the rush and have the campground to themselves.
Robin Rothfeder, Camper: "It's so beautiful. I was amazed at how high the creek was too. It's impressive."
Later in the week all the sites in Tanners Flat will likely fill; many campers made reservations 240 days in advance. But there are first-come-first serve sites at each campground.
Carol Majeske, National Forest Service Recreation Officer: "Those are the ones I expect will fill early, probably Thursday."
The two highest campgrounds in the Cottonwoods Albion Basin and Redman are still under snow. Redman should open Friday, but there's no opening date for Albion.
It's been a long time since the water's been this high in many of our canyons across the state. Up here in little cottonwood canyon, they've posted warnings along the creek about being very cautious, and they've even done sandbagging this week.
Carol Majeske: "Part of it is to protect the sites. Part of it is to protect the shoreline from eroding."
The campgrounds are safe, as long as everyone is careful by the creeks.
Robin Rothfeder, Camper: "People die in it when it's way lower than this. This looks dangerous."
Julianne Thompson, Camper: "It's pretty insane, they call it a creek, this is not a creek, it's a river."
And many people want to get a closer look.
Carol Majeske: "They're climbing around on the rocks, and they need to know the creeks are still high and dangerous."
For other good options, check the National Forest Campgrounds in Davis and Toole Counties, or State or BLM campgrounds, but plan ahead.
×
Most recent Utah stories