Estimated read time: 2-3 minutes
This archived news story is available only for your personal, non-commercial use. Information in the story may be outdated or superseded by additional information. Reading or replaying the story in its archived form does not constitute a republication of the story.
Sam Penrod ReportingThe US Supreme Court ended its term today with divided rulings on two controversial Ten Commandments cases. While neither case the court ruled on today is from Utah, the decisions will likely impact two pending cases here. One involves the Ten Commandments in Duchesne, while the other is in Pleasant Grove where a monument is in a city park.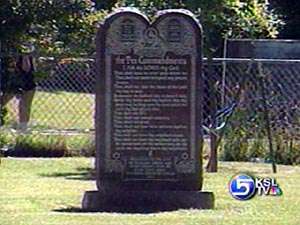 Both decisions today were close, with 5-4 votes. One ruling allows for the Ten Commandments to be on public property, specifically the Texas Capitol, while a case involving a Kentucky Courthouse does not. And that has attorneys in the middle of lawsuits over two Ten Commandments monuments here in Utah, trying to figure out what the rulings really mean.
A small monument inscribed with the Ten Commandments is situated in a small city park in Pleasant Grove. For the last two years the city has been on the defensive after a group called the "Society of Separationists" sued the city to remove it. Now both sides see a partial victory with today's Supreme Court rulings.
Brian Barnard, Plaintiff's Attorney: "I would have hoped the supreme court would say no you can't display the Ten Commandments or yes you can, and we would have been done with a great deal of litigation. Instead, what they said, in some circumstances you can display them and under some circumstances you can't display them."
The Salt Lake attorney who filed the lawsuit says what the court did settle today is that the Ten Commandments are religious in nature. The attorney representing Pleasant Grove City calls the decisions favorable for keeping the Ten Commandments on public property.
In a written statement Edward White says: "The Court explicitly stated that it was not ruling across the board that the Ten Commandments or other sacred texts cannot be displayed as part of a government display on the subject of law or American history. As such, government can continue to include the Ten Commandments in displays on public property."
But not everyone sees it that way.
Brian Barnard, Plaintiff's Attorney: "What we got was direction from the supreme court, saying look at each case individually, look at the intent look at the context and then make a decision whether or not the Ten Commandments on government property violate the first amendment."
Brian Barnard, Plaintiff's Attorney: "Instead of putting an end to litigation, I think these two decisions may well encourage more litigation."
Both Utah cases are now on appeal at the 10th Circuit Court of Appeals in Denver. Now that the high court has ruled, attorneys expect some type of action will be taken with the cases in the next few months.
×
Most recent Utah stories