Estimated read time: 2-3 minutes
This archived news story is available only for your personal, non-commercial use. Information in the story may be outdated or superseded by additional information. Reading or replaying the story in its archived form does not constitute a republication of the story.
Richard Piatt ReportingThe city of Cedar Hills is divided right now. Tomorrow, residents vote whether to ban alcohol sales in the city and whether to force retailers to close on Sunday. The issues are pitting neighbor against neighbor in this mostly LDS community.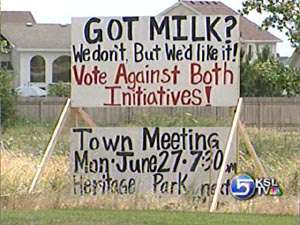 For a small city, Cedar Hills gets a lot of attention -- town homes destroyed by a mudslide even took the Governor there. The golf course, the city's major landmark, has financial problems that need to be solved soon. And now there are signs, literally, of something else: sharp differences over whether to ban alcohol sales in Cedar Hills, and to force retailers to close on Sundays.
To some, those ideas are an embarrassment or worse.
Mitch Richardson, Concerned Citizens of Cedar Hills: "It's bigotry."
Cedar Hills Resident: "It's not bigotry where people are going to have lynchings, but it's bigotry in the sense that I don't want people who are different than me to feel comfortable here."
These two men are part of a group called 'Concerned Citizens of Cedar Hills. Both are active Latter-day Saints, as are most residents there. But they say they the majority in Cedar Hills rejects the initiatives, even the measures follow the tenets of the faith. The reason, they say, is they want an open, prosperous community.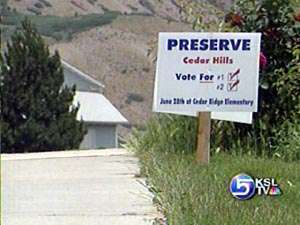 Eric Richardson, Concerned Citizens of Cedar Hills: "I hope tomorrow the citizens of Cedar Hills will send a clear message that this is not what we're all about. That we're for family values, but we're not for forcing values on other people."
But the citizens who want to preserve Cedar Hills are equally charged with energy to push the measures through.
Kevin Cromar, Coalition to Preserve Cedar Hills (Promotes Initative): "I find it disappointing that those amongst us are trying to scare the public into thinking that we won't have retail if the initiative is passed, when in fact the exact opposite is true."
Some call struggle with these issues growing pains. There's no question the city's population has multiplied in recent years, there are demands on city leaders, and there are sharp differences about hw to shape the city's future.
×
Most recent Utah stories