Estimated read time: 3-4 minutes
This archived news story is available only for your personal, non-commercial use. Information in the story may be outdated or superseded by additional information. Reading or replaying the story in its archived form does not constitute a republication of the story.
NEW HARMONY, Utah, (AP/KSL News) -- Fresh teams of firefighters moved into town Tuesday morning to help crews that had worked through most of the night to save the town from a shifting wildfire.
Firefighters aided by an air tanker worked through the night to successfully hold back a 10,000-acre fire licking at the edges of a southwestern Utah development.
Winds that forced many residents in the New Harmony area to evacuate had diminished and no homes were believed still in immediate danger, said Bureau of Land Management information officer David Boyd.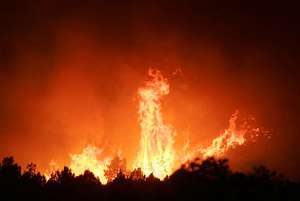 Some New Harmony residents are being allowed back into their homes this morning. Residents living away from the Harmony Heights subdivision were allowed back into their homes.
Fire spokesman David Boyd said officials hope to let the rest of the residents go home as soon as possible.
A heavy air tanker made some rare nighttime retardant drops. "The air tanker paid a key role in keeping the community protected and keeping flames away from homes," Boyd said Monday.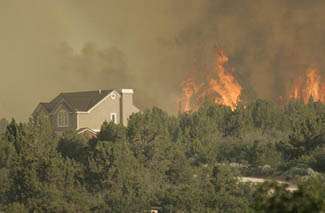 At a community meeting earlier in the day, officials announced the evacuation of Harmony Heights development, with 27 homes. But within the next hour, the evacuation was extended to the whole New Harmony area -- about 1,200 residents.
Boyd said only about 80 families evacuated, primarily those in and near Harmony Heights, south of New Harmony, which is 280 miles south of Salt Lake City.
Don and Emily Jones, who were among the first to build in the Harmony Heights subdivision in 1993, were among those who evacuated. They got back to their home to see a wall of fire heading toward the subdivision.
"When we looked out the back, we thought if our home is still there, it will be a miracle," Emily Jones said. It's not just your property, she said, "it's your dreams."
Boyd said one portion of the fire that is now actively burning is causing concern today. He said it's within a mile of some New Harmony homes.
"If we get wind and thunderstorms, there's still really a risk in this area," said Boyd.
The Blue Springs fire has now grown to nearly 15-thousand acres.
Further south, the Westside Complex Fire near St. George, which began almost a week ago as five smaller blazes and then grew into one, was 90 percent contained by Monday. The 68,264-acres fire was expected to be fully contained by Tuesday night, said fire spokesman Dave Olson.
The National Interagency Fire Center said Monday that 20 large fires were burning on more than 735,000 acres in Alaska, Arizona, California, Idaho, Nevada, New Mexico, Utah and Washington.
In Nevada, a 33,500-acre wildfire that had blanketed Las Vegas with smoke and prompted the evacuation of a Boy Scout camp was nearing containment. "We're basically in a mop-up mode now," fire information officer Joe Colwell said of the blaze southwest of Las Vegas.
Another Nevada fire has pushed its way toward the Utah line and has forced one Utah town to be on alert.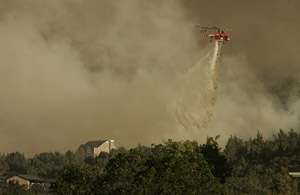 Yesterday, firefighters working on the Westside Complex were ordered to work on the Halfway fire, which pushed toward the east and headed to the Utah line and the small town of Motoqua.
Fire officials say Motoqua is now under a one hour evacuation order.
Arizona's biggest blaze, about 30 miles north of Phoenix, grew to 116,550 acres Monday, but it was burning away from populated areas that had initially been threatened by the lightning-sparked fire.
In Southern California, a brush fire swept across 800 acres in the western Antelope Valley on Monday, destroying one building and forcing some residents to evacuate before firefighters managed to contain it.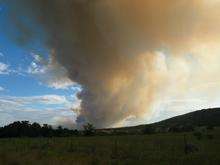 The fire broke out in the high desert 45 miles north of Los Angeles while firefighters in the Mojave National Preserve near the Nevada line mopped up a 6-day-old blaze that scorched more than 70,736 acres.
(Copyright 2005 by The Associated Press. All Rights Reserved.)
×
Most recent Utah stories