Estimated read time: 2-3 minutes
This archived news story is available only for your personal, non-commercial use. Information in the story may be outdated or superseded by additional information. Reading or replaying the story in its archived form does not constitute a republication of the story.
Alex Cabrero reporting For the second night in a row, a wildfire threatens a small southern Utah community.
Diamond Valley, just a few miles outside St. George, is awaiting the very real possibility they could be evacuated.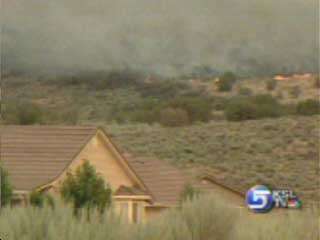 It's become an all too familiar scene this week in Southern Utah.
As crews battle two large fires, lightning ignited two new ones today in Washington County. It is one of the new fires that has a community on edge.
The Diamond Valley fire has burned about 4300 acres and is located about eight miles north of St. George. No homes have burned yet, but residents are on a one hour evacuation notice.
Rena Brown, Winchester Hills, Washington County: "It's just right there. To see that the fire is coming close. I'm just wondering what's going on. "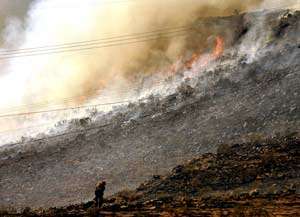 Four different fires, all caused by lightning strikes, are burning near St. George.
The biggest concern: The small community of Diamond Valley.
Craig Bennett, Dammeron Valley Fire Dept.: "They've cut a 30 foot wide fire line, right along the crest of that hill."
Flames were getting a little too close for Marci Olgalvie's sake.
Marci Olgalvie: "I'm pretty nervous. I am always looking at it. I would get my kids, journals, pictures and things. Things that we couldn't replace."
It has been a very long week for firefighters, but they say this is what they're ready for.
Erik Degroat, National Park Service: "This is what we train for, this is what we're here to do. And the crews have done, all the fire personnel have done an incredible job, and I'm trying to keep up with these things."
South of the Diamond Fork fire is the Plateau Fire. It has burned about 2800 acres. A third smaller fire, the Pine Valley fire, has burned about 100 acres.
An update on some older fires in the area: The Westside Complex fire that was burning near Gunlock was expected to be fully contained Tuesday evening. The Nevada Southwest Complex fire, which has burned some 400,000 acres, was getting close to Motoqua, but winds have pushed it north. Residents there should now be okay.
×
Most recent Utah stories