Estimated read time: 2-3 minutes
This archived news story is available only for your personal, non-commercial use. Information in the story may be outdated or superseded by additional information. Reading or replaying the story in its archived form does not constitute a republication of the story.
Samantha Hayes A Severe Thunderstorm warning this afternoon announced a fast moving front. It brought wind that sent trees toppling onto homes all over the valley.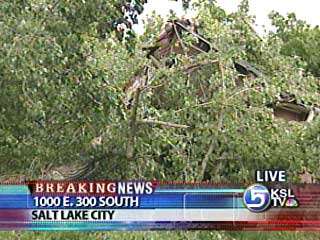 That's what happened to a home in Salt Lake City near 1000 E. 300 South. Maybe it was chance..or just good luck, but nobody was inside at the time the tree blew over. The home just happens to be vacant right now.
Before Ryan Bliss could make it home, his friend called him at work.
Ryan Bliss, House partly damaged: "He said I can't see down the street but it looks like a tree fell on your house. "
Ryan is feeling very lucky now, because it wasn't his house, but his next door neighbors that was smashed by an old, hollow, Cottonwood tree.
Ryan Bliss, House partly damaged: "Shocked, surprised..its a big tree."
In Murray, near 6400 S. 650 West, wind blew over another large tree. It fell on top of the roof.
A homeowner in Sandy sent KSL pictures of what happened in his yard when the storm came through. At the Delta Center, it looked like the parking barricades had a mind of their own.
In terms of damage, just take a look at what that Cottonwood tree did to the inside of the house on 10th East and 3rd South.
Dennis McKone, Salt Lake City Fire Dept.: "One burst could hit that one tree the right way..and toppled it."
The first floor is okay, but upstairs you can see where the tree punctured the roof, splitting beams and crushing the porch underneath.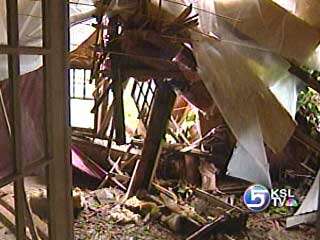 John Bunting, Neighbor "I'm just wondering how they are going to get it off the house without causing more damage. "
Forestry officials say the tree looked healthy, and it would have been hard to tell it was rotten inside before this happened.
The owner of home lives in California, and rents it out from time to time. Insurance company will decide how to remove the tree.
×
Most recent Utah stories