Estimated read time: 2-3 minutes
This archived news story is available only for your personal, non-commercial use. Information in the story may be outdated or superseded by additional information. Reading or replaying the story in its archived form does not constitute a republication of the story.
Keith McCord Reporting"There was a lot of noise and screaming, glass popping and stuff. We were on it. Everybody was cooperating, going around the building, pounding on doors, waking people up."
It's the stuff of the movies, but this scene was very real last night in downtown Salt Lake City. A fire at the Stratford Hotel started shortly after one o'clock this morning. When fire crews arrived, flames were visible, and many of the residents were still inside.
Fire investigators believe it was intentionally set, although they haven't specified how. They have arrested 27-year old John Amos Perry, a resident at the hotel. He faces charges of aggravated arson, which is a felony.
Nearly 50 people were living in the hotel, most were awakened by neighbors pounding on their doors.
1:15 AM on east side of the building flames were shooting through a window at the end of the hallway. On the south side of the building terrified residents stood at their windows and nervously waited for firefighters to rescue them. In some cases, smoke was already filling their rooms.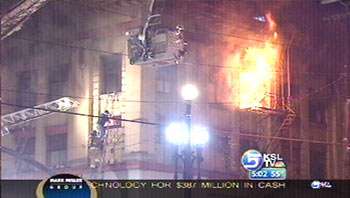 Norman Rivers was at his window. He says even though rescuers got to him in just three or four minutes, it was an agonizing wait!
Residents went running down the halls pounding on doors to wake up their neighbors. Some people were able to grab a few belongings. Others simply got out with the clothes they were wearing. Ken Tschanz didn't have time to even grab a shirt!
Jesse Andrys and several other residents picked up fire extinguishers and tried to do what they could until fire units arrived.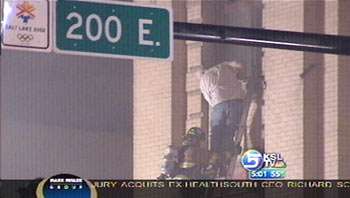 Jesse Andrys, Stratford Resident: "We were doing our best to put the fire out man, but the fire extinguishers, the pins were bent. And once we go the pins out, they weren't fully charged."
Fortunately everybody got out. Only a couple of people needed medical attention.
This morning the Red Cross bused the residents to a nearby store and provided $130 dollars each for clothing and other necessities. With the hotel unlivable for the foreseeable future, the Red Cross will also help residents to find other places to stay.
Jesse Andrys: "You know, I lost everything, but the one thing I miss the most is my Bible. I had the thing for years, all my bible certificates, everything."
Because of the size of this fire, a lot of firefighters and equipment were dispatched--about 80-firefighters were on the scene. They were able to get the flames under control in about 40-minutes.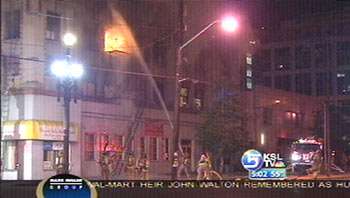 Fire investigators have spent the day going through the building; and they no doubt will be checking those fire extinguishers that some of the residents said weren't working.
×
Most recent Utah stories