Estimated read time: 2-3 minutes
This archived news story is available only for your personal, non-commercial use. Information in the story may be outdated or superseded by additional information. Reading or replaying the story in its archived form does not constitute a republication of the story.
(KSL News) For the third morning in a row, a wildfire moves near a small southern Utah community.
The latest concern is the Diamond Valley fire, which has burned about 4,300 acres and is located about eight miles north of St. George.
Flames there are near homes, but the structures are not considered to be in immediate danger at this point.
Yesterday, flames were getting a little too close for Marci Olgalvie's sake.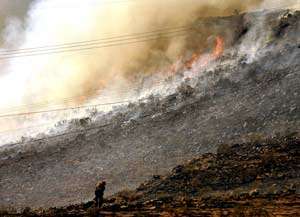 Marci Olgalvie: "I'm pretty nervous. I am always looking at it. I would get my kids, journals, pictures and things. Things that we couldn't replace."
Elsewhere in Utah's southwestern corner, lightning started two new wildfires Tuesday that threatened the town of Motoqua, a cluster of 12 homes about 25 miles west of St. George.
Officials late Tuesday said the community no longer faced immediate danger.
And relieved residents of a housing development near New Harmony that was nearly consumed by a 12,000-acre wildfire have returned to their homes, with some finding that the flames had stopped just short of their property.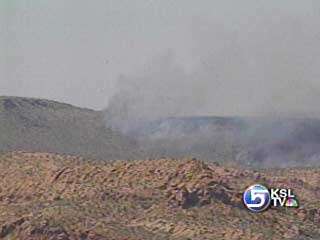 "God was looking out for us. Our property was unharmed," said Emily Jones, whose home was within 50 feet of the fire.
High wind pushed the blaze toward the Harmony Heights development just south of New Harmony late Monday, and officials ordered the evacuation of about 1,200 residents in the area. Officials believe that only about 80 families actually left, said Bureau of Land Management spokesman David Boyd.
Hundreds of firefighters got unexpected help when the wind calmed, and the evacuation order was lifted Tuesday.
Linda and Jack Reed didn't know what to expect when returning to their Harmony Heights home.
"When we left here, there was a wall of fire at the end of the neighborhood. I've never seen or heard anything like it," Linda Reed said.
But she said they "were amazingly lucky" to find their home intact Tuesday.
At New Harmony, about 30 miles northwest of St. George, the edge of the brush and grass fire came within a mile of some homes. But no buildings had been lost in the community about 280 miles south of Salt Lake City.
(The Associated Press contributed to this report)
×
Most recent Utah stories