Estimated read time: 2-3 minutes
This archived news story is available only for your personal, non-commercial use. Information in the story may be outdated or superseded by additional information. Reading or replaying the story in its archived form does not constitute a republication of the story.
Shelley Osterloh ReportingEight-hundred teams, 12-thousand players, all gathered here in Salt Lake. The game is Volleyball, the players have come from across the country for the Junior Olympic Championship in the Salt Palace.
Competition began early this morning. There are rows and rows of nets and a lot of excited girls from all over the country, some of them from right here in Salt Lake City. It's the invasion of the knee-highs. Everywhere you turn you see them.
Jeff Robbins, Utah Sports Commission: "These are really the elite volleyball players from across the nation, in terms of girls age 12-18."
Ali White, Junior Olympic Competitor: "I'm nervous! This is my first time coming to Jo's even though I've played a couple of years."
Ali White is a member of the Salt Lake High Country Volleyball Club. Watching her team play, you wouldn't guess these girls are only 11 and 12-years-old. They may be young in age, but they are rich in experience. Some of them have played together since they were six years old.
Ali White: "If we play with one person a long time and then they are on our team in high school, we know that we've played with them so we know what they play like."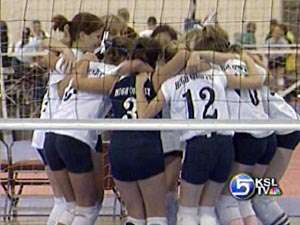 That feeling of comraderie is sometimes harder to apply to friends on the other side of the net.
Ali White: "It's weird 'cuz you really want to be friends with them, but then you're like, 'oh, I want to beat them and I want to win this game.'"
Taryn Horner, Coach: "Doing this every year until they are the 17's, 18's when they are getting recruited makes the experience a whole lot better for them down the road."
Coach Taryn Horner says the girls quickly learn how to be competitive.
Taryn Horner: "We were by far the shortest team there. To play 12-year olds that are six feet tall, they are like, whoah."
Beyond the game Taryn feels the greatest lesson learned is responsibility.
Taryn Horner: "To teach them to bring their uniforms to be on time; leadership, communication, working with other people,lit's something they can do and talk about the rest of their lives."
The competition continues all week long. You can come and watch, but there is a fee -- ten dollars a day.
×
Most recent Utah stories