Estimated read time: 2-3 minutes
This archived news story is available only for your personal, non-commercial use. Information in the story may be outdated or superseded by additional information. Reading or replaying the story in its archived form does not constitute a republication of the story.
John Daley ReportingYesterday's intense wind storm did plenty of damage to trees in the Salt Lake Valley, but one of Utah's top tree experts says other factors, including drought, likely contributed to the catastrophic collapse of some trees.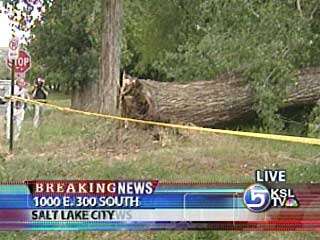 It was perfect storm that toppled the giant trees. Mother Nature may have pushed them over last night, but their troubles, some likely human-caused, started years ago. Over the previous six years Utah's drought has had many faces--low water levels in lakes and reservoirs, parched land with sparse vegetation, spotty grass lawns. And you can add another item to the list, trees, like one downed by wind in Murray, fighting for survival against an array of natural and human-caused conditions.
Bill Rutherford, City Forester: "A lot of times when the trees are under stress they're more vulnerable to these kinds of failures."
Salt Lake's city forester says one cottonwood tells a story. It was probably 100 years old and nearly 80 feet tall with a big canopy of leaves. But at the trunk it was rotting, under stress from a variety of factors including drought and, likely, under-watering.
Bill Rutherford: "In the absence of good water, in the absence of good care, trees tend to get weaker, they don't grow as much wood, the wood is what's holding them up against strong winds and snow and ice and as that production of wood starts to wane, they become more prone to the forces of weather and conditions and more likely to break."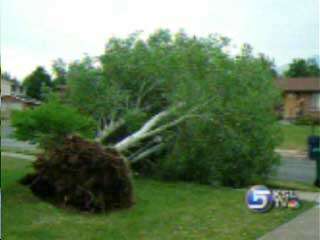 Rutherford says in part due to the drought, some trees have died and upwards of 10% of the city's 91-thousand street trees have dead wood or other signs of stress. But this cottonwood came down because of a perfect storm; the tree was stressed then it got nailed by the wind.
Bill Rutherford, City Forester: "There's other poplars, and cottonwoods that were subjected to similar stresses that didn't come down."
He advises giving your tree proper care, especially in its early years--not over-pruning older trees, calling a tree expert, including the city's forestry department, for help, and watering properly.
Bill Rutherford, City Forester: "We need to save water, but these big mature trees, that grew up with a different volume of water, as we reduce the volume of water they get we tend to increase the risk and increase their decline, so these big trees, even during drought years, need water."
The city's forester says you should monitor your trees regularly; and if you look up and see dead wood or cracked wood, the tree is under stress and needs some help. But the problems are often fixable and the trees can and will recover with proper care.
×
Most recent Utah stories