Estimated read time: 2-3 minutes
This archived news story is available only for your personal, non-commercial use. Information in the story may be outdated or superseded by additional information. Reading or replaying the story in its archived form does not constitute a republication of the story.
John Hollenhorst ReportingScientists near Lake Powell discovered the fossilized remains of a creature so terrifying that if they'd found it 93 million years ago, it probably would have had them for lunch. And, they're excited because it's a brand new species.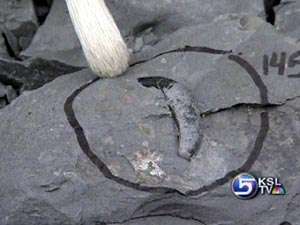 Scientists have been exploring the desert near Lake Powell for the last six years. Now they have a fearsome creature to show for it, buried in a bed of shale. They've excavated bones, that when fitted together in a museum will be a nearly complete skeleton of a plesiosaur.
It was a sea-going distant cousin of a dinosaur sporting 100 very nasty teeth. In its day, 93 million years ago, it might have been the toughest thing in the ocean.
David Gillette, Northern Arizona University: "A nasty bugger, yeah. It was an ambush predator. Probably loafed in the water just under the surface or even at depth, waiting for its prey to come by, and then would make a burst as an ambush and take it's prey without their even knowing it was there."
The teeth are easily recognizable. The bones are well preserved, although heavily fractured.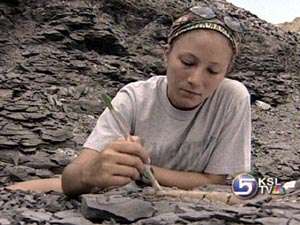 Becky Schmeisser, Northern Arizona University: "This is something that can be pieced together in the lab. That's what glue is for. So we can definitely fit this all back."
Ninety-three million years ago this shale deposit was the muddy floor of an inland sea. The plesiosaur evidently died and sank to the bottom, into the mud.
Becky Schmeisser: "And then it must have somehow gotten buried quickly enough that it wasn't scavenged. Because we aren't missing a lot of pieces."
David Gillette: "Others that we found are a third complete or half complete or missing a skull or missing flippers. So to find a complete one is what we dream about."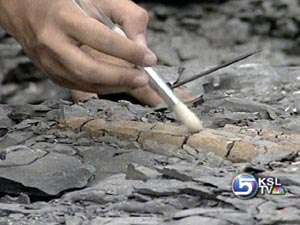 Plesiosaurs descended from land-based reptiles, but eventually became full-time marine animals.
David Gillette: "We don't see any indication in the skeleton that they ever went to land."
They vanished 65 million years ago. Scientists aren't sure why. But whatever the calamity was, it claimed their cousins on land as well. Three species of Plesiosaurs have been found previously; this makes the fourth. Scientists have asked us to keep the exact location a secret.
×
Most recent Utah stories