This archived news story is available only for your personal, non-commercial use. Information in the story may be outdated or superseded by additional information. Reading or replaying the story in its archived form does not constitute a republication of the story.
Sam Penrod/Andrew Adams ReportingUtahns rallied against the war in Iraq Monday night, hoping 2007 means the end to U.S. involvement in Iraq.
The New Year brings with it a new milestone in U.S. casualties in Iraq. The death toll for Americans killed in Iraq is now more than 3,000, as President Bush struggles to salvage a military campaign that has little public support.
The vigil Monday night recognized the three-thousand U.S. soldiers who have been killed in Iraq. And it comes as the Bush administration prepares to make changes in how the war is fought. That could mean more Utah troops will be deployed.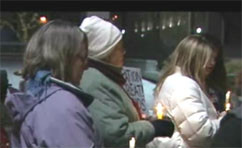 This vigil was one of hundreds held in communities across the country Monday night. Anti-war protesters huddled together, holding candles they said represented lives lost and the hope for peace.
Leslie Reynolds-Benns, Protester: "I can't bear the thought of another life lost over there."
Leslie Reynolds-Benns, Protester: "I just don't see it ever as a solution. It's been proved one more time that it's not a solution."
The protesters believe enough is enough. Parents of soldiers are among those speaking out.
Debbie Johnson, Protester: "My son is full time Army. He is on his second tour right now. He's in Iraq."
Not only have three thousand soldiers been killed, more than 22- thousand have been wounded, and the protesters say many more soldiers suffer emotionally when they return home.
Debbie Johnson, Protester: "We need to take care of them. So many of them are not being treated for p.t.s.d. If you can't take care of them when they get home, then don't send them over there to begin with."
The vigil comes as President Bush re-thinks U.S. policy in Iraq. He is preparing a speech to the nation to outline his new policy to end the sectarian fighting and keep U.S. troops from being targeted in attacks.
Mr. Bush has made it clear that increasing troops in Iraq is one possibility, which protesters insist will only prolong a situation, that they believe will only end when U.S. troops come home.
Debbie Johnson, Protester: "I don't think it will make any difference how long they stay."
"We are the biggest miliatary force in the world and we have the ability and responsibility to be a deterrent to war, rather than people who start wars and invade countries."
The president plans to give his speech on his new war policy before the State of the Union on January 23rd.
As of Monday night, the American death toll in Iraq has climbed to 3,002 U.S. soldiers.
×