Estimated read time: 2-3 minutes
This archived news story is available only for your personal, non-commercial use. Information in the story may be outdated or superseded by additional information. Reading or replaying the story in its archived form does not constitute a republication of the story.
Sammy Linebaugh reportingToday will be another hot, busy day for fire crews in southern Utah.
They've been using everything from water, to engines, to choppers to fight wildfires there. And one of their most powerful fire-fighting tools is fire.
It may sound ironic to fight fire with fire, but that's exactly what crews in southern Utah have been doing all week.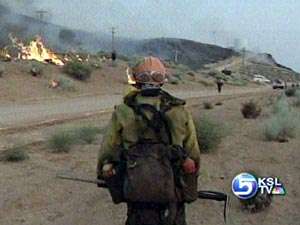 It's a technique called "burnouts", and so far, it's proved successful.
When residents in Winchester Hills saw flames quickly coming over the ridge and near their homes, they feared the worst.
Arleen Tolman/Winchester Hills Resident: "When it came over, I started thinking, we'd better pack a bag."
Fortunately it didn't quite come to that, thanks to quick thinking from fire crews, who initiated burnouts.
It may look out of hand, but these fires were set by firefighters intentionally. The idea... if you set a fire yourself, you're in control of it, and if the real fire comes close there won't be anything left on the ground to fuel the blaze.
And apparently, it worked! No homes in the Winchester Hills area were seriously damaged.
Lightning started another blaze, yesterday, near Anderson Junction, 25 miles north of St. George. About 15 residents were evacuated, as fire crews hit the fire hard.
Residents were allowed back home after a few hours.
Of course, it was only a few months ago, Washington County was swamped in floodwaters.
Dean Cox/Washington County Emergency Management: "I was just thinking this morning that we've been baptized by water and fire both now. So I don't know what that makes us, but we really feel like we've had our share this year."
Fires aren't draining just the residents, but state finances too. Each airplane drop with red fire retardant costs ten-thousand dollars. Totals for the wildfires have already reached a million dollars.
The good news... Utah is getting some federal assistance.
The two biggest concerns this morning are the Diamond Valley and the Plateau fires.
Firefighters are making good progress on both blazes, which are threatening habitat for an endangered tortoise.
Fire spokesman David Olson says the Diamond Valley fire, ten miles north of St. George, has grown to five-thousand acres, however, he says fire crews are making progress. Olson says firefighters have contained most of the flames close to homes and property.
The blaze is consuming native grasses in the Desert Red Cliff Preserve, which provides food for the endangered desert tortoise.
Olson said the Plateau Fire, three miles north of St. George, is also threatening the endangered tortoise. In fact, he says there's an estimated two-hundred tortoise every square kilometer. The blaze has scorched nearly three-thousand acres, and Olson says it's nearly contained.
(The Associated Press contributed to this report)
×
Most recent Utah stories